Capt. Don McPherson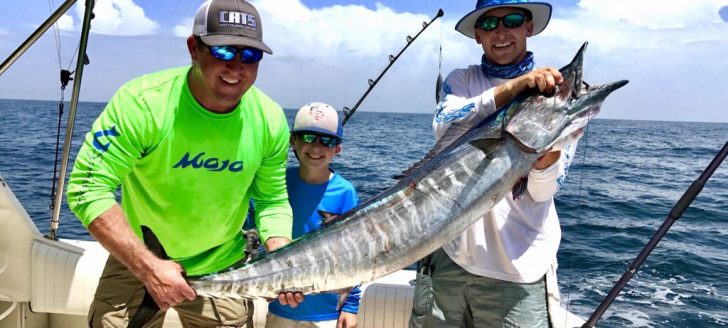 September gave us some hot weather and now most everyone is looking for October. Cooler temps should mean better fishing. We usually see larger king mackerel in the Fall. A four-hour trip is usually just long enough to catch kings, Spanish mackerel and bonita. Bull redfish usually appear near the shoreline around mid-October. Trolling with #2 and #3 spoons with same size planers are good options for kings and bull reds. Small spoons and mackerel straws are good for Spanish mackerel.
Spend a little more time on the water and you will probably catch some vermillion snapper bottom fishing. Red snapper and triggerfish must be released. There is a special red snapper season open Friday, Saturday and Sunday of the first weekend in October. This season is for recreational anglers only. Charter for hire red snapper season is closed.
Bottom fishing in waters beyond 160 feet should produce some variety of fish. Your best charter options are a ten-or twelve-hour trip. Some of the fish you may catch are gag grouper, red grouper, scamp grouper, vermillion snapper, white snapper (red porgy), amberjack, almaco jacks and maybe more. The season for all of these fish are open in October. You can keep these fish the remainder of the year, except for amberjack. Amberjack season closes October 31st.
If we have some blue or blue-green water pushed in closer then October will be good for white marlin, blue marlin, wahoo, mahi-mahi and tuna. Deep drop fishing for snowy grouper, yellowedge grouper, long tail sea bass and tilefish should be good in October.
Watch for the small cold fronts in October and there should be great weather in between. I always enjoy the cooler temps and lower humidity. If you do not have your own boat then there are charter boats available.
Capt. Don McPherson
251-752-0235
Getaway Charters
www.getawaycharters.com