By Chris O'Byrne: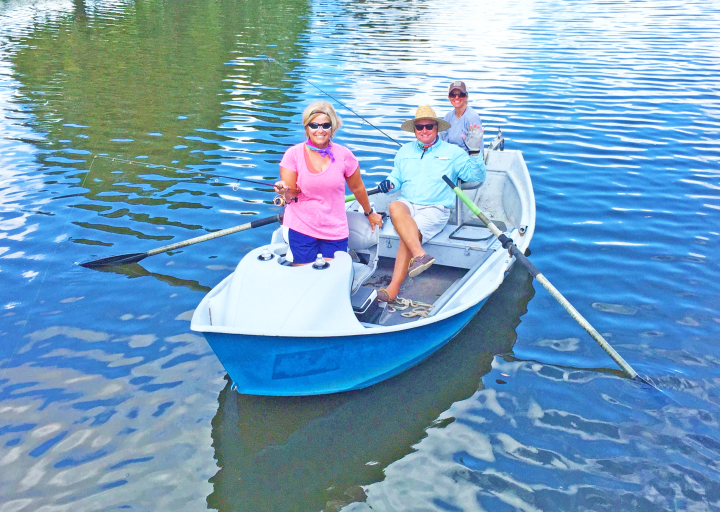 Affordable, clean and sneaky, paddle craft are proven fishing tools. They can go where powerboats can't and catch the fish that power boats scare away. Now several fishing guides using canoes, kayaks, hybrid boats and even river craft are rowing happy anglers to fish.
Steve Gibson named his kayak guiding operation "Southern Drawl." That describes the gentle pace which his clients take following him in their own dry and stable NuCanoe kayaks. As Gibson explains, the results are often better than fishing from powerboats. "My anglers get a kick when they catch more fish from my kayaks than from a boat with a gas motor." He continues with a nod to the stealth that kayaks are known for, "In a kayak, you can get so close to the fish that sighting and casting is easy, and they don't even know you're there." Gibson, who works the waters of Sarasota, Florida, gets excited assuring that the gentle pace ends when a big redfish is hooked. "You can feel every move the fish makes, and they often tow the kayak!"
Other paddle guide programs offer uncommon large boat experiences. With pride in the hospitality of his boat, Hunter Towery says "My clients love the tall, comfortable seats and the space for cold drinks and snacks." Hunter rows a McKenzie River drift boat with the stealth of a submarine and the storage of a cruise ship. "My anglers are comfortable, very well equipped and free to fish with both hands." Towery, who guides the freshwater of Polk County with Peace Creek Guides, feels that his hand built wood craft provides a best of both worlds fly fishing platform, "With the space of gas burning boats and the stealth of kayaks, our clients enjoy having all the gear necessary for various fishing situations, and a relaxed environment that gets us closer to the fish and other animals." He describes the service with a mission statement come slogan, "Sit back and enjoy catching fish while I provide the manpower."
Guides with Mark Benson are also working from river style boats. Benson, the Director of Fly Fishing at the Ritz-Carlton, Orlando Great Lakes Resort explains that drift boats outperform powerboats because, "The spacing of the seats lets two clients fly fish easily." Comparing drift boats to various power boats, he points out. "The more intimate seating places the guide's help, company and knowledge in the perfect position to give anglers a pleasant day."
While hiring a paddle guide, like owning a paddle craft, is less cumbersome than other options, knowing what you are in for is important. When checking out guides, ask what is expected of you. Who paddles the boat? How much skill and effort does that take? Will you be wading? Or will you be dry all day? Will the guide leave you, then come back later? Or will they be tying on flies and unhooking fish for you? Compare your goals with their standard trip to maximize your day. For adventurous anglers, non-touristy vacationers or for avid fly fishers looking for a new way, hiring a paddle guide is a great method to have fun, experience a unique view of nature and catch fish.
The advantages of guided paddle craft fishing is summed up by a pleased Southern Drawl client. "We had a most memorable trip! I'm convinced that kayak fly fishing is one of a few ways to have such an intimate experience fishing so close to your treasured resources."