by Capt. Rachel Cato
As I sit here trying to focus on writing this article, hurricane Irma is forecasted to run through our area this time tomorrow night.  Our family packed up our necessities this morning and left the house without knowing if we will have one to return to.  Such events help you to really focus on what is important in your life.  So many times, I've found myself getting stressed out or anxious about the next day's charter whether it's catching bait, catching fish, or pleasing clients.  I'll tell my husband and he'll look at me and he'll reassure me that I'll figure it out like I always do. Or there's a day where fishing is tough and nothing's happening the way I want it to, but I'll generally catch myself and remind myself to just go back to fishing how I know.  Hardest thing sometimes is for us to remember it's just fishing and the idea is to have fun and enjoy the people you are with.  So, you might be reading this and think to yourself what does this have to do with fishing? Well, honestly a lot because if you just relax your mind, look around, listen to the wind, watch for water movement, and just be in the moment, you will learn so much about what's right in front of you.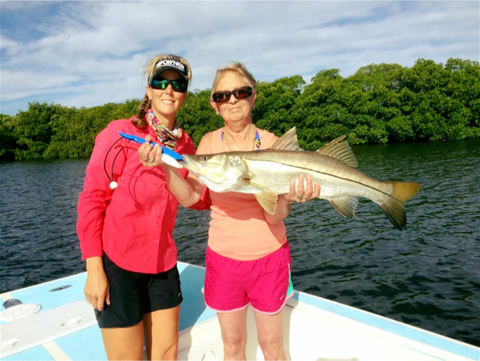 This month you will continue to find snapper feeding, generally around reefs or in deep passes.  Try fishing on the slower current or as the tide begins to slack, free lining a very small live bait makes the best natural presentation.  When the tides are moving stronger fish along grass edges in 4 to 6-foot depth. You can try a popping cork or free lining a live bait, or shrimp if the Pinfish are not too thick.  Redfish and snook are sharing the mangroves along the edges, sand holes on the flats, or troughs filling or emptying a flat.  Best technique is fish on moving water either incoming or outgoing, just take a moment and watch the water try to figure out where the current is flowing in or out.  Chumming in this area you will start to see fish feeding, sometimes I find it may take a while to work in area.
Captain Rachel Cato has been a fishing guide out of Palmetto since 2005. She is on the pro staff with Evinrude through Gulf Coast Marine in Port Charlotte and specializes in catching many species year-round with live bait for up to 6 anglers. To book your next fishing adventure call (941) 524-9664, go to captainrachel.com, or
find her on Facebook at CaptainRachelCharters