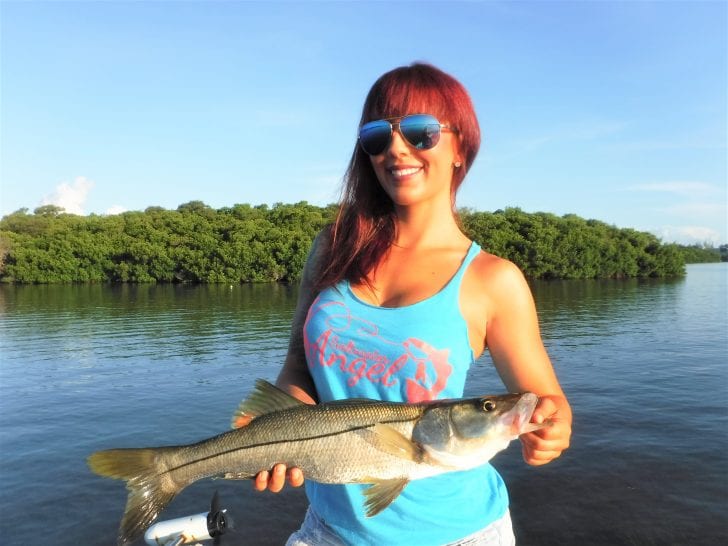 by Capt. Jim Klopfer:
Most anglers are aware of the fact that many species of fish migrate along the Gulf Coast and are generally caught at certain times of the year.  Spanish and king mackerel along with false albacore and cobia move through in the spring and again in the fall.  Tarpon make their big push in the warmer months, starting in early May.  Sheepshead are thick in late winter and spring.  But, resident fish also make local migrations and none more distinctly that perhaps the most popular inshore gamefish in Florida; snook.  So, let's go through the annual snook migration pattern.
The cycle begins in the winter, when snook have migrated up into creeks, rivers, and residential canals to escape the harsh conditions on the shallow flats.  The more severe the winter, the more pronounced this movement will be.  The water in these areas will normally be significantly warmer than the open bays, due to deeper holes, protection from the wind, and darker "tannin" stained water.  I prefer casting shallow diving plugs for snook in this situation, they allow anglers to cover a lot of water fairly quickly and elicit exciting strikes!
As the water warms up in the spring, snook will move out of the creeks, rivers, and canals and scatter out over the inshore bays.  They will set up in their typical ambush spots that offer cover, current, and opportunities to feed.  Mangrove shorelines with a depth change, grass flats with potholes, sloping oyster bars, docks, and bridges will all hold snook.  At this stage snook can be taken using a variety of techniques; live shrimp and baitfish, plugs, soft plastics, and weedless spoons are all effective baits.  Outgoing tides early and late in the day and at night are prime times.
By early May snook will be staging heavily in the passes and at some point will move out onto the beaches to spawn.  This is one of the easiest times of the year to catch snook, especially a trophy!  Live pilchards are extremely effective, especially if a few freebies are tossed into the structure to get the fish excited.  Live pinfish and large shrimp are also deadly.  Artificial lures can be used successfully as well, though live bait really shines in this situation. By mid-summer the beaches should be thick with snook.  Areas with some type of cover such as rocks or pilings will be hold good numbers of fish.  This is a fantastic opportunity to sight cast for snook using light spinning or fly tackle.  Small baits that can be presented more delicately will draw the most strikes, white bucktail jigs and flies are a great choice.  Live bait works very well, too!
Capt. Jim Klopfer (941) 371-1390 or [email protected] "Sarasota Fishing Secrets" can be downloaded at www.SarasotaFishingBook.com.