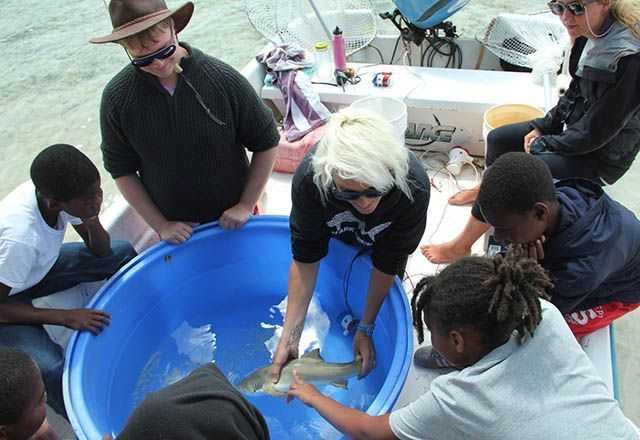 [dropcap]S[/dropcap]ince its establishment in 1990, The Bimini Biological Field Station has been renowned for ground breaking shark research, but has also connected the local community to the shark science being done. On March 21 and March 22, the lab hosted an open day for students in grades 4, 5 and 6 from the Bimini Primary School. Coordinated by outreach and education director Anthony Gillis, the students moved from station to station, learning about the research being done at the lab as well as getting to meet some amazing creatures.
The first station was a touch tank where students learned about conch, lobster, lionfish and their habitats. Lead by volunteers
At the next station, lab manager Rachael Cashman introduced the students to the Bimini boa, a beautiful snake indigenous to the islands. They also learned about the importance of mangrove habitats to animals above and below the surface and how they are even beneficial to humans.
Students then headed to the back beach to meet some juvenile sharks. The first station, lead by assistant manager Emily White and media manager Charlotte Sams, introduced the kids into the world of shark science. At this station they got to learn about shark work ups and see one in action. The work up is the data collection process, which includes length measurements, weight, taking a DNA sample, a stable isotope sample and inserting a PIT tag (same thing as the microchip your cat or dog might have). The staff also discussed the biology of nurse sharks, highlighting some of their unique characteristics.
Volunteer Fenella Woods and Sharks4Kids founder Jillian Morris lead the final station where students got to meet a juvenile lemon shark. They learned about the key characteristics to help identify a lemon shark, their anatomy and the importance of the mangroves as a nursery area for these little sharks.
Educating local students about the habitats and animals in their own backyard is incredibly important for the future of the Bahamas and this 2-day event was a huge success. For more information about the Sharklab check out www.biminisharklab.com and for more information about Sharks4Kids check out www.sharks4kids.com.
[easy-social-share]