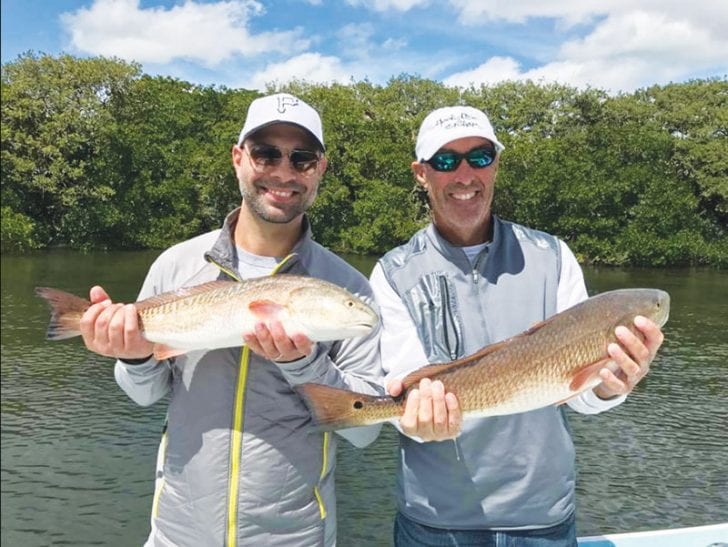 by Capt. Rachel Cato
Are you ready to catch some fish?? I always say in January I'm just trying to survive until February and February is getting ready for March. Tackle setup is pretty standard for all inshore species. I'll drop to 15# braided line with fluorocarbon leader from 25#-30#. Hook size will range from 1/0 – 3/0 depending on how big the bait is. If fish are missing the hook go up a size.
Spotted Sea Trout are the fish to target for both action and eating. Current and grass edges will be a good starting area if you are on the hunt. Set anchor up wind and current is ideal. Once you get set start casting up tide and working the drift. If you find one keep working the area. If all you catch is short fish move on because you will be in a small fish area. That doesn't mean there will only ever be short fish but just that day. I like to mark the spot and then check back throughout the year. The regulations for trout are 4 per person, 15" min and one (1) fish is allowed to be 20" and over. On occasion, trout will have a white worm and I will tend to cut out the portion of meat with a dense amount. I don't seem to find only the big fish with worms, even the smaller fish get them. Otherwise it goes in the pan as is! Redfish will begin to school up, move through the flats, and crash through the mangroves while fishing for snook. This winter did not offer a good season for reds. There was a good show early in December but once the cold fronts came through the drop in water temperature must have pushed the fish out of the area. Snook are the main attraction in March due to the opening of the season. I personally don't keep snook to preserve the population. I recommend my clients not to keep them over 30". Majority of fish over 30" will be female. Since there are so many other fish with higher population to take from I like to release all snook.
As with every spring the water can get crowded so if someone is where you want to fish go somewhere else, you never know what you will catch when you go somewhere new!
Captain Rachel Cato has been a fishing guide out of Palmetto since 2005. She is on the pro staff with Evinrude through Gulf Coast Marine in Port Charlotte and specializes in catching many species year-round with live bait for up to 6 anglers. To book your next fishing adventure call (941) 524-9664, go to captainrachel.com, or find her on Facebook at CaptainRachelCharters