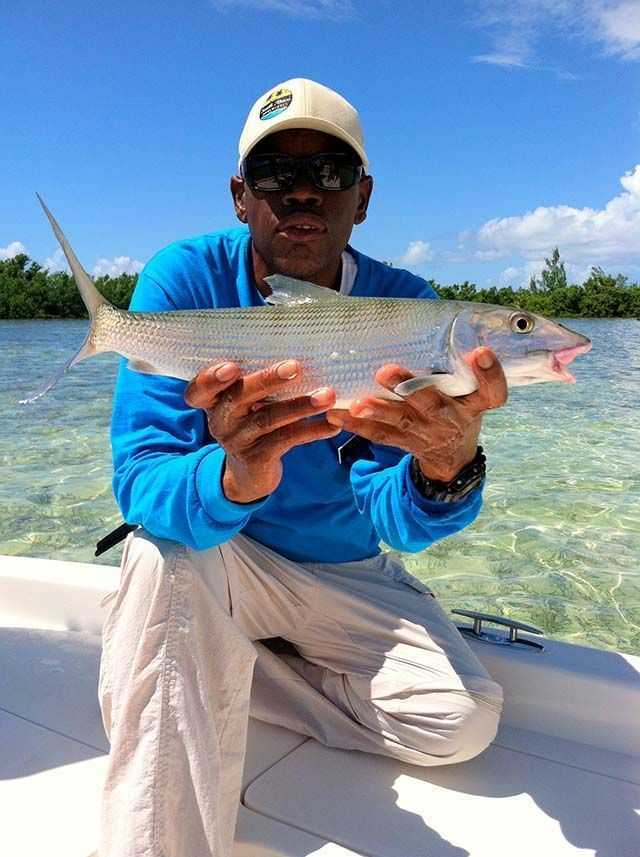 Happy New Year to all of you from South Abaco. We have spent the month of December getting acclimated to a fairly regular pattern of cold fronts. What has been unseasonal are several days of southeast breezes keeping daytime temperatures in the 80s.
The water is cooling and mutton snapper are starting to invade the shallower waters. Bonefish numbers have been steady with a recent half day charter releasing seven bones. The lunar cycles are still triggering some spawning activity but we are seeing smaller schools on the flats. The winter season is now upon us and cold fronts have been passing on a regular basis. As the water temperatures cool, the flats will become less active with single permit and bonefish; however, the fish are still around in fair numbers. We still like to target these species with 10 pound spinning gear and 8 or 9 weight fly rods. My favorite fly pattern for wintertime is the "Gotcha" fly.
We'll be seeing an influx of barracuda and sharks to the flats during the next few months. We target these larger species with 15 to 20 pound spinning gear tipped with a green tube lure or small piece of dead bait with a trace of wire and 5/0 hook. The mutton snapper love to eat conch slop or pilchards and will provide an action packed fight on 15 pound or lighter tackle.
Wishing every one of our readers a wonderful and prosperous year. I hope that you will take the time to come visit us in Sandy Point to enjoy what we have to offer during 2014. Please feel free to reach out to me for any questions about fishing South Abaco!