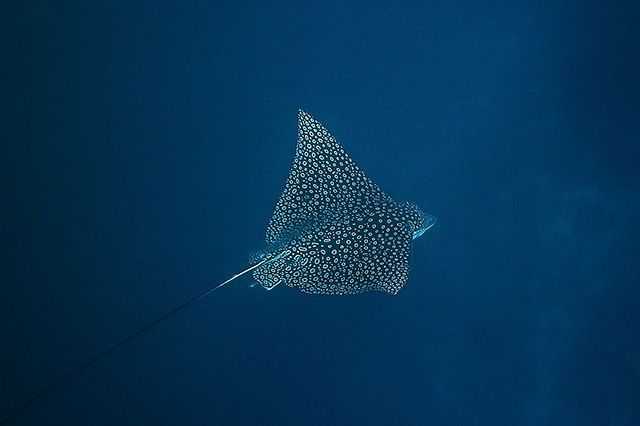 [dropcap]M[/dropcap]ay's currents and consistently flat calm weeks, bring warmer water to South Eleuthera along with 100-foot-plus visibility. The water temperature will rise from April's 74-75 degrees to 76-79 degrees by the end of the month. Four or five degrees may not sound like much but does make a difference, you don't need a hood any longer or a full wetsuit! May brings with it massive schools of mutton snapper that invade the reefs of South Eleuthera foraging on our abundant reef fish. The best spot to watch the schools of mutton are along the edge of The Wall where a school so large will pass, an entire dive at 65 feet starts and ends with a school of mutton snapper. The thermocline where the eagle rays feed is still a little deep but if you are properly trained and willing, a 100 foot dive over the edge of the wall will occasionally produce a school of massive eagle rays for your viewing pleasure. Wing spans on these "bats" can easily reach seven feet and as always look like the Air Force flying in formation.
Safety tip for May:  As there is no hyperbaric chamber on Eleuthera, divers should consider DAN insurance in the unlikely event of an accident.
Fun tip for May:  Review coral formations and see who can identify the most coral formations, see the Gallery tab on the website.
Diver tip for May: Too long a surface interval is not good for your health, dive early and dive often.