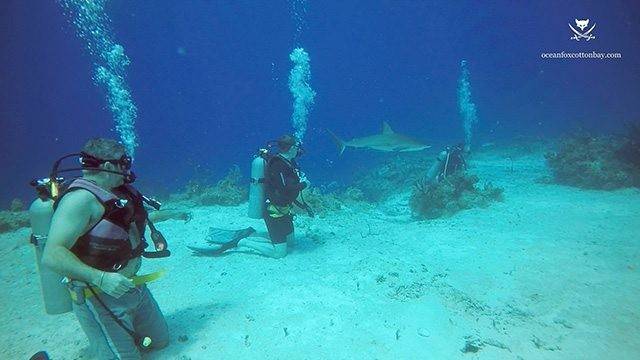 June is here and the water is warming up to 78°F-79°F, which means wet suits are optional. Weather is now in the summer pattern, mostly calm to light breezes with afternoon thunderstorms, excellent diving conditions with visibility 100-foot-plus. In June there is still a chance to see the large old loggerheads on dives and sometimes trying to mate on the surface. Try to remember when approaching large marine creatures to turn and swim parallel to them when within 10-to-12 feet. Otherwise they assume you are going to attack them and will quickly swim away. The same goes for the large schools of Atlantic spade fish and mutton snapper seen this time of year and always applies to the sharks we see year around.
In June we continue to see eagle rays down on the wall at 100 feet. If you are properly trained for "deep dives" don't forget your camera as the rays are quite impressive in size and color.
Safety Tip for June: Remember to clear your ears early and often to avoid discomfort; blow against a pinched nostril, which simultaneously relaxes the tissues surrounding the Eustachian tube and forces air through it.
Fun Tip for June: If you go on the chumsicle shark feeding dive see who can correctly count the number of sharks, up to 20 so far.
Diver Tip for June: Too long a surface interval is not good for your health, dive early and dive often, use the one stop website for travel to Eleuthera, new website.