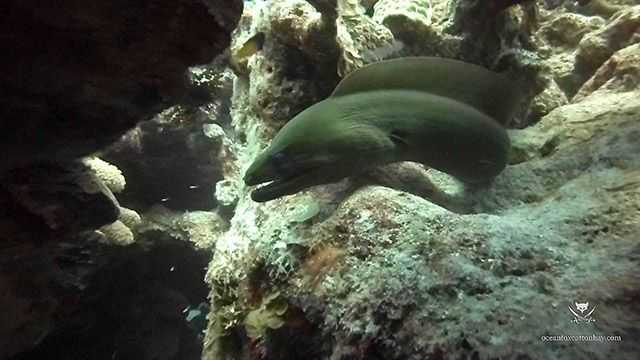 [dropcap]M[/dropcap]ay is an interesting month, with relatively calm winds bring warmer water to South Eleuthera along with 100-foot-plus visibility. The water temperature will rise from April's 74°F to 75°F to 76°F to 79°F by the end of the month, definitely comfortable. It is a good month for large schools of mutton snapper, especially along the wall. The top of the wall is around 55 feet to 60 feet and we sometimes drop down to around 100 feet just to enjoy the schools of mutton snapper. The thermocline where the eagle rays feed is still a little deep but if you are properly trained and willing, a 100-foot dive over the edge of the wall will occasionally produce a school of massive eagle rays for your viewing pleasure. Wing spans on these "bats" can easily reach seven feet and as always look like the Air Force flying in formation.
Safety tip for May: Bumping into or rubbing against coral can cause minor scratches and abrasions with some bleeding. Buoyancy control is the mark of a good diver, with good buoyancy control you should be able to prevent injury to yourself and not destroy the coral.
Fun tip for May: Review the "Coral Library" tab under the Gallery tab on the website and see who find any of those on your dive.
Diver tip for May: If you see a shark you should be excited about seeing a shark and not excited because you think you are about to get eaten. If you don't feel that way you need to do the shark feeding dive.