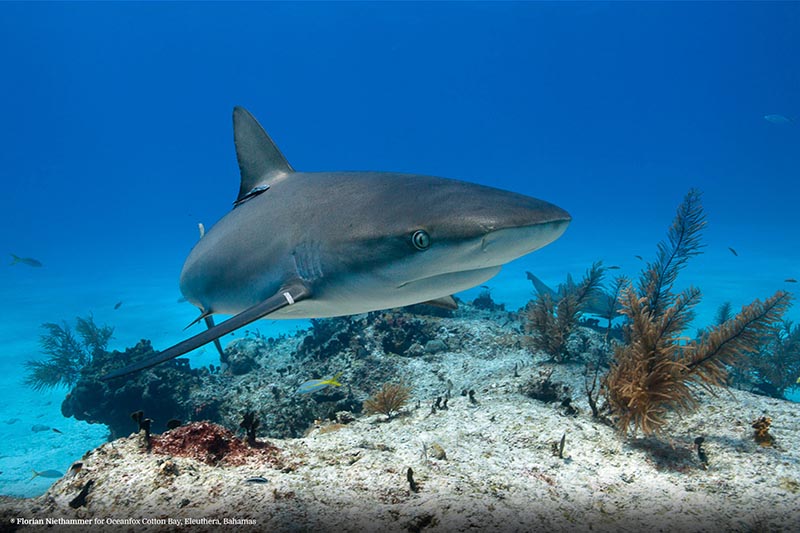 May brings relatively calm winds bring warmer water to South Eleuthera along with 100-foot-plus visibility. The water temperature will rise from April's 74-to-75 degrees to 76-to-79 degrees by the end of the month, comfortable without a hood. It is a good month for large schools of mutton snapper and continuing to see the large loggerhead turtles. Most of the dives we do will have you encountering sharks, mostly Caribbean reef sharks. Depending on the dive site, you may have the pleasure of diving with ten or more sharks (we do promote shark conservation through education and can get you comfortable with sharks if you are not already).
The thermocline where the eagle rays feed is still a little deep but if you are properly trained and willing, a 100-foot dive over the edge of the wall will occasionally produce a school of massive eagle rays for your viewing pleasure. Wing spans on these "bats" can easily reach seven feet and as always look like the Air Force flying in formation.
Safety tip for May:  Bumping into or rubbing against coral can cause minor scratches and abrasions with some bleeding. Buoyancy control is the mark of a good diver, with good buoyancy control you should be able to prevent injury to yourself and not destroy the coral.
Fun tip for May: Gear up and do some wall exploration dives, we have miles of wall to explore.
Diver tip for May: If you see a shark, you should be excited because you got to see a shark and not excited because you think you are about to get eaten. If you don't feel that way, you need to do the shark feeding dive http://oceanfoxcottonbay.com/diving/shark-feeding-dives.html .
Forecast by: Al J Curry
Ocean Fox Cotton Bay Scuba Diving and Deep Sea Fishing
Cape Eleuthera Resort & Marina
PADI Instructor # 287249
Email: al@oceanfoxcottonbay.com
www.oceanfoxcottonbay.com
SharkSchool, day 1 with 5 free divers and 5 scuba divers; always fun to watch really good free divers playing a 50' for minutes at a time; looks like a great group.

Posted by Ocean Fox Cotton Bay on Monday, April 24, 2017
Shark School, day 1, with five free divers and five scuba divers.