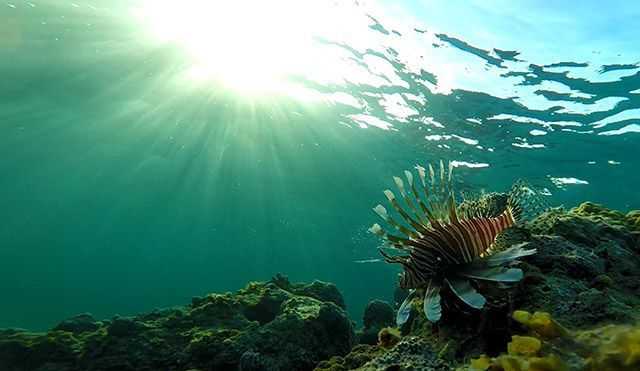 By: Dr. Jocelyn Curtis-Quick
The Lionfish Problem
[dropcap]L[/dropcap]ionfish are an invasive species from the Indo-Pacific. They were brought to the Caribbean by the aquarium trade; pet owners released these fish into waters off of Florida, and they quickly spread throughout the western Atlantic. These predatory fish are hungry and are rapidly eating everything and anything on the reefs that will fit in their mouths.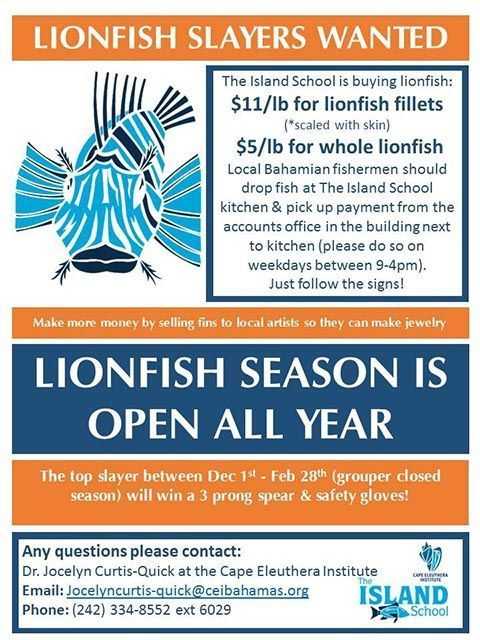 The Solution
Eradication of lionfish is impossible, as they are so widespread and can live at depths up to 1000 feet, out of the reach of removal efforts. So what can be done about the invasion? Let's eat 'em! Lionfish are devastating reefs, but fortunately for us, they are delicious! These fish are still an untapped sustainable marine resource. The Island School with the Cape Eleuthera Institute in The Bahamas are campaigning to start a lionfish fishery. They are now buying lionfish from local fishermen year round for $11 per pound for fillets (scaled with skin) and $5 per pound for whole fish. The 'You Slay, We Pay' campaign was piloted over the last crawfish closed season, and during this four-month period five local fishermen brought in 500 pounds of lionfish. The Cape Eleuthera Institute (CEI) encourages others to develop this suitable fishery and to eat lionfish. If you have yet to try lionfish, the meat is white, much like grouper, and is particularly high in omega-3 fats. With no reports of ciguatera in lionfish, it is the healthy and reef-friendly choice.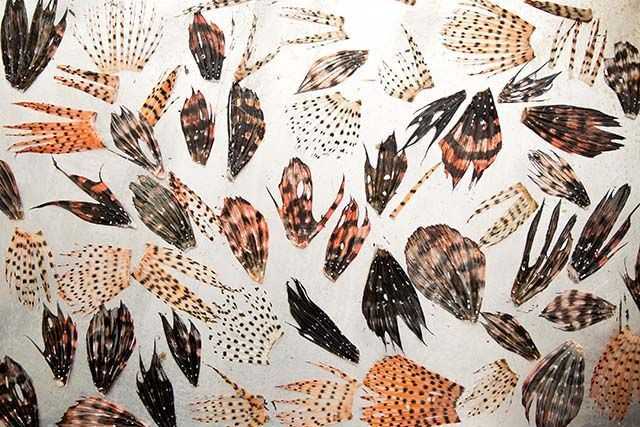 Jewelry market
Lionfish are beautiful fish, and this beauty is another way to utilize the fish. Their fin and spines can be removed and dried/baked, then used to make safe, beautiful, sustainable jewelry and decorations. CEI and the Eleuthera Arts & Cultural center have spear-headed the lionfish jewelry movement in The Bahamas and held the first workshops to teach people how to turn the fins into jewelry. The workshops have been a huge success thanks to the support of Audrey Carey and Shorlette Francis, along with the local artists and all people that attended. As a result of these workshops, local artists are now selling jewelry on island. Hopefully this jewelry will spread, like the lionfish, and become available worldwide!
Be safe
If you are fishing or handling lionfish, be safe. Lionfish are venomous (not poisonous); they have 18 spines that can sting you. It is easy to avoid the spines if you know where they are, so educate yourself! If you do get poked, treat the area with hot water, but take care not to use water that is too hot.
Call to action
What can you do? You can catch 'em, eat 'em, and wear 'em.
Any questions about lionfish, please contact Dr. Jocelyn Curtis-Quick at the Cape Eleuthera Institute, email: Jocelyncurtis-quick@ceibahamas.org or phone: (242) 334-8552, extension 6029.
Please visit our blog (blog.ceibahamas.org) to find out about our latest research and news.