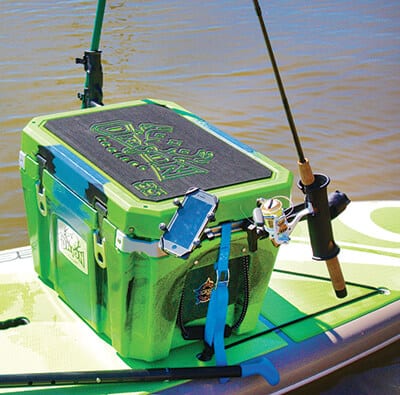 By Will Schmidt:
From bare bones to fully loaded, a stand-up paddleboard (SUP) is a great platform to fish from. Typically coming in under 30 pounds, it is easy to transport, it's quiet and super stealthy, and with a standing view it makes for a fantastic platform to sight fish from. The portability and ease of clean up make it great for a quick after work trip with a rod, reel, and handful of lures. Add a cooler and a few extras, and you are ready for a full day of fun on the water. To maximize your time on the board, here are my three top tips.

• Paddle control is perhaps the most important things about SUP fishing. Quickly storing your paddle to transition from paddling to casting can be a clumsy noisy process, but I've found a simple and effective trick. Using a length of rope about 2 feet longer than your waist, tie a loop in each end. Then wrap the rope around your waist, putting one loop through the other. When you spot a fish, put the handle of the paddle through the hanging loop and the blade on the board, now you are ready to cast and still have quick access to your paddle if you need to maneuver while fighting a fish.
At some point you will need to hold yourself steady to keep from spooking fish while working a productive spot. An anchor works, but I like a stake-out pole. They are easy to deploy, silent and effective. There are nice commercial models available in the $100 range, but I made one easily for about $15. Most large gardening departments sell sturdy hard plastic tomato stakes. They have a point at one end that will penetrate on most flats. I also added a PVC T joint as a handle and a small piece of foam noodle as a float. This works well on soft shallow flats and can be tied to the board or run through an open-ended rod tube to hold you in place.
• Gear management especially during an extended outing is something you will need to consider. I opt for strapping on a cooler, preferably one that latches shut like the Orion. This gives me a secure place to put gear that will not be lost in case of an inadvertent plunge. It also offers a comfortable seat, which doubles as a safety feature to lower your center of gravity in rough situations. Furthermore, the Orion has built-in Yak Attack rails, which allow you to attach Ram style accessories like rod holders.
Light, quiet and fun, an SUP offers a great way to get to the fish whether for a quick trip after work or leisurely day of fishing.
Will Schmidt is a seasoned tournament angler who has been writing about fishing for nearly two decades. Check out Orion coolers at Orioncoolers.com.