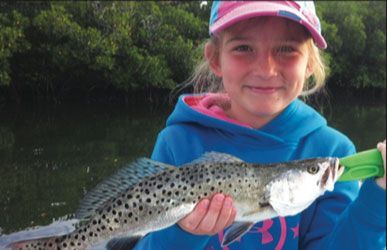 Full blown summer heat is here for July in the Edgewater Backcountry and Mosquito Lagoon, start your fishing trips as early as possible to take advantage of the sunrise feeding pattern. Also late afternoon or night fishing
can be the order of the day during the dog days of summer. Cloudy water is the norm for summer months, give yourself an advantage by using baits a fish can find. Smell, sound, and vibrations in the water are keys, smell can be achieved with bait as shrimp, cut bait, or scented soft plastics like Gulp, sound made by top water lures, poppers, and live pigfish, vibrations from live finger mullet, mud minnows, and spoons like Aqua Dream are all part of the plan. Another option to fight the heat is to fish shade, some fish do take advantage of man made structures during middle day sun shine, under bridges, docks, and boats, plenty to pick from, 10 area bridges stretching from High Bridge in the north, Daytona bridges over the Halifax River, New Smyrna bridges, down to the Haulover Canal draw bridge.
Uncountable docks and moored boats in coastal Volusia County, main rule on these is to pick older structures and moorings, old dock pilings are covered with barnacles and plant growth in turn attracting bait fish and other fish food, seldom used docks also a plus to hold better game fish, docks with larger boats in residence usually have a deep hole to accommodate the boat. Fish sinking lures, shrimp, live finger mullet or pigfish close to and under the docks, you will have to deal with snags around the structures, but comes with the territory. Long time moored or docked boats are great FAD's (fish attracting devices), structured oriented fish will be caught in close and under, including Mangrove Snapper, Snook, and Sheepshead during cooler months. Open water game fish can be close by attracted by the shady spot and baitfish, Reds and Trout may also be right in the shade hunting food around any of these structures. Many docks also have a bonus of close by old standing pilings, oyster bars, grass beds, and channel drop offs.
One of the best live baits right now are the tiny "mini mullet" which are widespread in the backcountry and ICW during early summer, they hatched here locally in early spring when they were too small to catch by net, now just big enough to stay put in a cast net, usually hugging close to sandbars and shorelines, best bet to catch them early in low light. Great free line fished, tail hooked in shallow water or lip hooked with a small weight on the bottom of deeper holes and channels during summer heat.
Summer is a great time to take the kids blue crabbing. You can crab from any dock or shoreline, with a slow current, use just a string with a chicken neck or any bait fish tied to the end, when you feel the crab biting, very slowly pull it in until close enough to scoop your crab with a dip net. If the dock is
deeper or has a current, use a weighted crab trap to hold it on the bottom. Regulations as follows, adults must have a saltwater fishing license, limit is 10 gallons per day, no egg bearing females, 5 traps maximum. My fishing mentor, grandfather Sam got me started in my fishing career teaching me crabbing in the Tomoka River, great memories I will never forget.