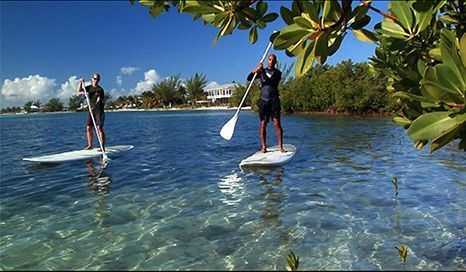 Stand up paddleboarding has been spreading like wild fire and is not only a great workout, but also fun for the whole family, even your fur friends. More and more places are offering lessons and rentals, so if you have never tried it, I definitely recommend giving it a go.
Here in the Bahamas we have some incredible places to explore whilst on a board, whether you are a seasoned pro or a first timer. My mom recently visited me in Bimini and we headed out to the mangroves for her first SUP experience. It was sheltered and shallow, a perfect place to learn. We spotted stingrays and tons of fish and still managed to get some exercise. The mangroves throughout the Bahamas are teaming with life and paddleboards an excellent way to explore them. You can even bring your mask, fins and snorkel if you decide to have a swim as well. The boards are very quiet on the water, so animals are easier to approach and get a good view of. My husband and I paddled for an hour yesterday and saw dozens of juvenile green sea turtles, juvenile lemon sharks and a small nurse shark. We are still fairly new to the sport, but absolutely love it.
The sandy shallow areas are also a great place to learn or get some practice in while watching for wildlife. Southern stingrays, small sharks and bonefish are all animals we regularly see on our adventures. Bimini Sands activities director Grant Johnson has circumnavigated both islands, some 19 miles, and has seen eagle rays, Atlantic spotted dolphins, and even a school of mahi mahi. Without a loud boat engine, animals are far more relaxed when you approach, so interactions can be really remarkable.
Our little island dog Lusca even loves going. She is seventy pounds, so it has taken some practice to balance with her on the board, especially when she decides to bail off. If you do want to bring your dog, try a very shallow and calm area to start. They will probably jump off, so this will make it easier for both of you.  A life jacket is also a good idea if your canine companion is not a great swimmer. I started by kneeling or sitting on the board with her and then gradually stood up. She doesn't like to sit for long, but we have lots of fun anyway. I think her favorite part is running through the water from board to board because she cannot make up her mind where she wants to be.
Whether you go local or decide to add it to your vacation itinerary, it is definitely worth trying! Most places will have larger beginner boards, ideal for all ages and sizes. They will usually offer tours as well if you want to do some guided site seeing from your board. Polarized glasses are a must for spotting critters and a waterproof camera and dry bag are also really great to have with you. If you are in Bimini check out the Bimini Sands for rentals, lessons or guided tours and make sure you check out the incredible mangroves!