When to use a beacon:
Most Search-and-Rescue organizations instruct that beacons are satellite signaling devices of last resort, for use when all other means of self-rescue have been exhausted, where the situation is grave with imminent danger and the loss of life, limb, eyesight or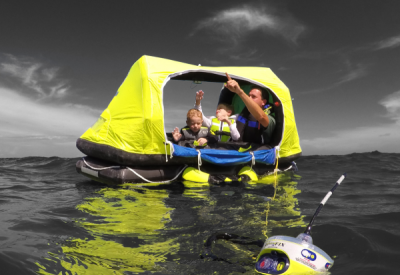 valuable property will occur without assistance.
An EPIRB is an Emergency Position Indicating Radio Beacon. Sea Tow Foundation uses the ACR Electronics GlobalFIX™ V4 for its beacon rental program. The GlobalFixV4 has an internal 66 channel GPS for faster acquisition from a cold start. A protective keypad cover helps prevent false activation and a user-replaceable battery pack that has a 10-year replacement interval.
Choose an EPIRB for Boating if:
Medical conditions of crew or passengers warrant
Operating a vessel with recent substantial repairs
Operating in areas inclined to sudden changes in weather
Operating in areas that are remote
Operating in areas that are unfamiliar
Operating in areas with limited cell phone and VHF radio signal contact
Operating in unreliable waters
Operating an unfamiliar vessel
Operating an unseaworthy vessel
The GlobalFIX™ V4 has two functional self-tests to monitor the beacon's transmission, power and battery performance and GPS acquisition. Features of GlobalFix v4 include:
Highly visible LED strobe
Internal 66 channel GPS
High efficiency electronics
Long lasting 10-year battery life
Professional grade design built for years of use in harsh environments
Simple manual activation keypad with protective cover to prevent false alarms
Size: 8.13 (H) X 4.28" (W) (20.7 X 10.9 cm)
Weight: 27 oz (764 g)