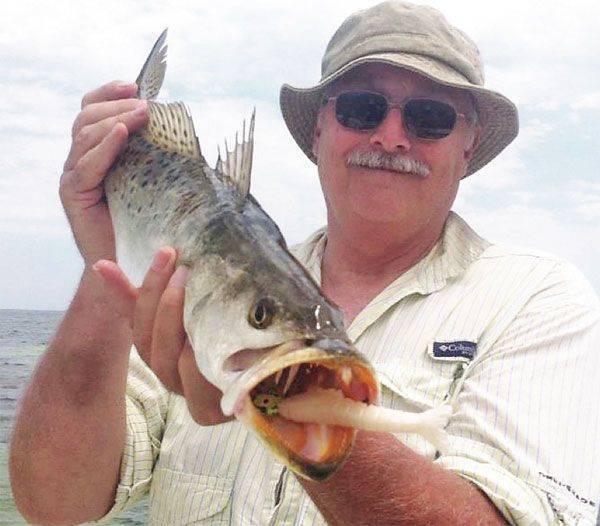 By Capt. Steve Hillman
[dropcap]W[/dropcap]hile there are big trout caught throughout the year in the bays up and down the Gulf Coast, fall is one of the best times to target them. Trout tend to gorge with each passing cold front as they bulk up for the winter months when forage species become fairly sparse. One of the primary food sources for trout in the bays is shad. Shad are very high lipid content fish and these trout are eating a lot of them.
These fatty bait fish directly translate to heavier trout than you'll find during the summer months. It's like if I were to eat a half gallon of Blue Bell ice cream every day for several weeks. I would have to buy new clothes. Actually, I could stand to lose some weight but that's beside the point. Not only are they bulkier than usual, but due to the fact that they go through cold front-induced feeding periods makes them easier to catch.
Big is a relative term.
A big trout here along Panama City and The Forgotten Coast may reach six or seven pounds. I personally consider a five or six pound trout a big one! A seven pounder is above average and an eight-plus is embarking on trophy status. This is just my opinion. Other opinions may be quite different and probably are.
"Where" is by far the most popular question with regards to targeting big trout.
There are many variables to consider so this is not a simple answer. The first thing that you should know is that the population of larger trout is much smaller than the population of 15 to 17 inchers. Larger trout tend to be more elusive than smaller ones, and there are not as many of them, so it may seem that the odds are stacked against you from the get-go. Big trout do not like heavy fishing pressure. They are big for a reason. Fishing the most popular areas in your bay system with hopes of catching one probably isn't a good game plan. This is not to say that it couldn't happen, but the chances are slim. Older female trout tend to seek out areas away from predation and away from fishing pressure. Such locales could be a series of grass potholes in Apalachicola Bay, St. Joe Bay, or East Bay and North Bay in Panama City. Or you can find them in a secluded small patch of live oysters in Indian Lagoon and around St. Vincent Island and Apalachicola. More often than not, it's an area in between the heavy fishing pressure locations. There are many grassy pot holes here in our bays that are near major high-traffic spots. We pull a fair number out of them every fall. I caught and released an 8.25-pound trout last fall from an area that was 200 yards in between two other shell humps that get hammered by fishermen on a regular basis. My recommendation to most folks is to spend some time looking at Google Earth. The technology these days is unbelievable, so why not utilize it.
Use a stealth mode approach when entering and leaving the area you intend to fish. Trout can feel vibration for hundreds of feet through the water. You would never ride your four-wheeler through your feed pin or hunting area on your deer lease, so why would you motor through where you intend to fish? I feel like 100 to 150 yards is a safe distance to idle within until shutting down the big motor. Being quiet is paramount when hunting for big trout.
Once you've narrowed down your target area, there are certain signs to look for. It's been written about thousands of times, but finding active bait within your fishing zone is almost mandatory. If you have tide movement and you're in the right area, then you should see some shad buzzing on the surface or some mullet flipping. If there's a small gut, some shell or grass, and a color change, then you are really in business. Once you've zeroed in on the area that has the highest probability of holding big trout, you should work it over. What I mean by that is to make many casts while varying your retrieve. Fan your casts. Work it slow. Work your lure fast. Mix it up until you find out what they want. Big trout do not eat all the time, so it may take dozens of casts before you finally get bit.
Big Baits for Big Trout
If I had a dollar for every time I've heard this, then I could afford to take weekends off. This is almost as inaccurate as the whole "Match the Hatch" theory. While these fishing clichés actually do have merit at times, they are mostly off the mark. If I'm casting into a concentrated ball of small shad, why would I want to throw a lure that looks just like the thousands of shad that the trout are eating? Have you ever heard of getting lost in a crowd or trying to find a needle in a haystack? It's true that large trout will eat a six-inch shad or a 12-inch mullet, but you better be in the right place at the right time when they do. In other words, big trout are very successful predators. More often than not, they have a belly full. A smaller offering will sometimes do the trick when nothing else will. The five largest trout caught on my boat last year were caught on four-inch Salt Water Assassin Sea Shads. These fish are much more prone to falling prey to a tiny morsel when they are already full. Again, we're referring to fall trout, not the ones we target during the dead of winter or summer. We'll cover that when the time comes.
Most of the larger trout that we catch during the fall are on soft plastics such as Salt Water Assassins. We throw the five-inch Rat Tails when we are jigging it a lot with a fairly fast retrieve. We'll switch over to smaller paddle tail style bait such as a Sea Shad when we feel like the trout are not very aggressive. I feel that the most effective way to work a paddle tail is to swim it using a straight retrieve. The tail creates vibration and the straight retrieve makes it appear that the bait is fleeing from its predator. We use lighter jig heads (1/16 and 1/8 ounce) in an effort to stay in the strike zone longer. Topwaters work great also. If it's somewhat calm, then smaller ones such as Super Spook Juniors or Baby Skitterwalks work well. Full size Spooks, Skitterwalks and MirrOlure She Dogs work well on choppy days.
More and more anglers are getting excited about catching big trout these days. Catching numbers of trout is fun, but nothing compares to hooking up with an eight or nine- pounder, especially if you've been fishing for most of your life. It's the thrill of the hunt. There's nothing like it, and everyone who fishes will have a shot at a big one if we all play our cards right. Keeping five to seven pounders for fillets is not the answer. Release those big ones so we'll all have a chance at catching them when they are eight to 10 pound trophies. See you on the water!