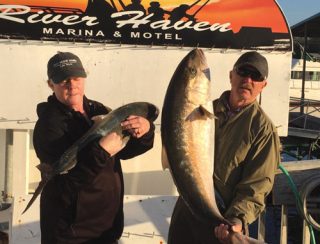 Steinhatchee and the Big Bend area, historically experience the coldest weather of the year during the month of February.  That first sentence is discouraging.  However, if you pick your fishing days based on weather, location and fish targeted, the excellent fishing will continue to be a secret to the fair-weathered fishermen.  Let me elaborate…
Cold temperatures direct fish simply because they want to survive.  Fish move toward a thermal refuge. If one knows where the warmth fish are seeking, and are driven to, then successful fishing is often guaranteed inshore and off.
Pelagic fish, such as Spanish and King mackerel, cobia and such, swim south for warmer waters.  Meaning, they are far from casting distance, so they're a non-target during the cold season.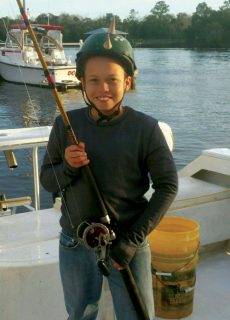 Resident inshore fish – trout and redfish – remain available.  If there is a harsh cold front, trout will congregate in the Steinhatchee River. Slow retrieved bottom bouncing jigs or sinking plugs like MirroLures will be the fatal meal of fifteen-inch-plus trout.  The best bet is to go to local tackle shops, and find out what is the most recent hot bait, and stock up on a few working artificial baits.  Expect the bite of numerous short trout and realize that harsh handling—removing the protective anti-biotic slim – is just as fatal to the fish as slamming it against the gunnel before release.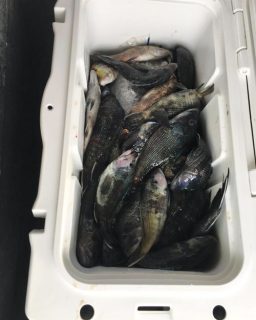 The best battle offshore will be amberjack.  They fight so hard that some people don't want to mess with them making the excuses, "They're only good smoked" or "They're full of worms." Off Steinhatchee, it is rare to find worms in the amberjack.  I and my wife, and many others find the meat delicious however you cook it.  So, the real reason some opt not to take on an amberjack is they are too weak to handle the fish.  Just saying…
The difficulty of catching big amberjack is that you have to take time to catch live bait, which can be slow coming in the cold water.  Pinfish aren't on the grass flats this time of year.  The best bet is to drift over artificial reefs, using light sinkers and bream hooks, baited with squid pieces.  Take your time and get a tank full, because they won't last long.
Brian Smith | BIG BEND CHARTERS
www.BigBendCharters.com
CaptBrian@bellsouth.net
877.852.3474 | 352.210.3050