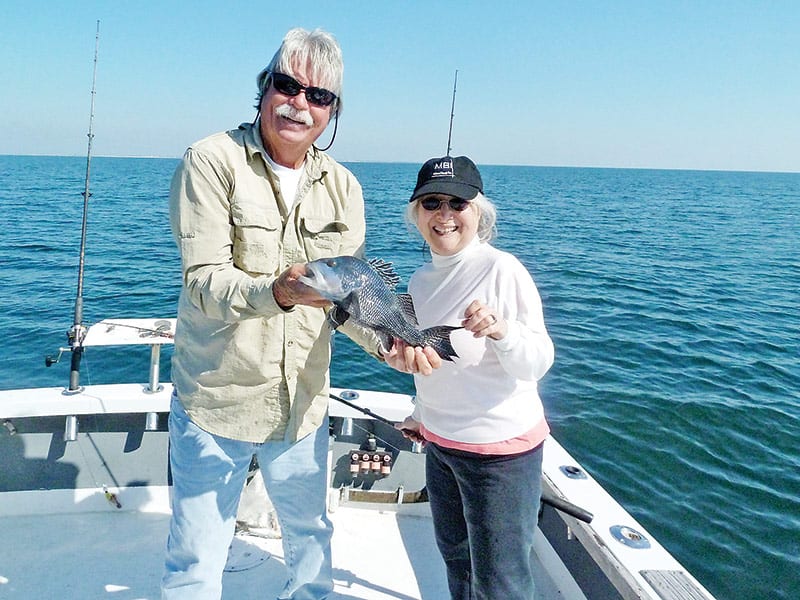 With the coming of winter, fishing changes from our migratory species to the fish that hang out and weather the cold. Some fish such as sheepshead and black sea bass congregate to spawn which can make for some non-stop catching. Look around any structure like docks, piers or rock piles both in Saint George Sound or just offshore for sheepshead. They will take shrimp or even better, fiddler crabs. Use a small hook and be easy on the hookup. Don't strike hard to set the hook because they like to crush up their food before getting it down. Black sea bass fishing is best offshore on natural bottom out to sixty feet as the big breeders come in. These are some of the best eating fish we have and can be large in December. The males make a physical change and get what we refer to as the "Hump Head." When on the bite they will take almost any bait or jig. Try sending down a one-and-a-half-ounce white jig, tipped with shrimp, and hang on. Along with Key West grunts you offshore anglers can have a big day and come home with a nice bunch of good eating fish. Gag grouper season remains open in our County through 31 December, so make the best of it.
Try cruising the gulf-side beach of Dog Island or around Dog Island Reef for redfish and small black drum. When the water is clear they can be sight fished right up close to the wave breaks. The black drum is often over looked as a good food fish since the big ones are not edible, but if you get one in the under the five pound class and it will be delicious.
Spotted sea trout will be moving into the rivers and shallows as the water cools. White trout congregate just as the others do to spawn and can be a lot of fun when you find them. There are a lot of fish to catch, you just have to get out and find them either from a boat or the beach.
Good luck out there and be safe.
CAPT. CHESTER REESE
Natural World Charters
(850) 228-9060
www.naturalworldcharters.com