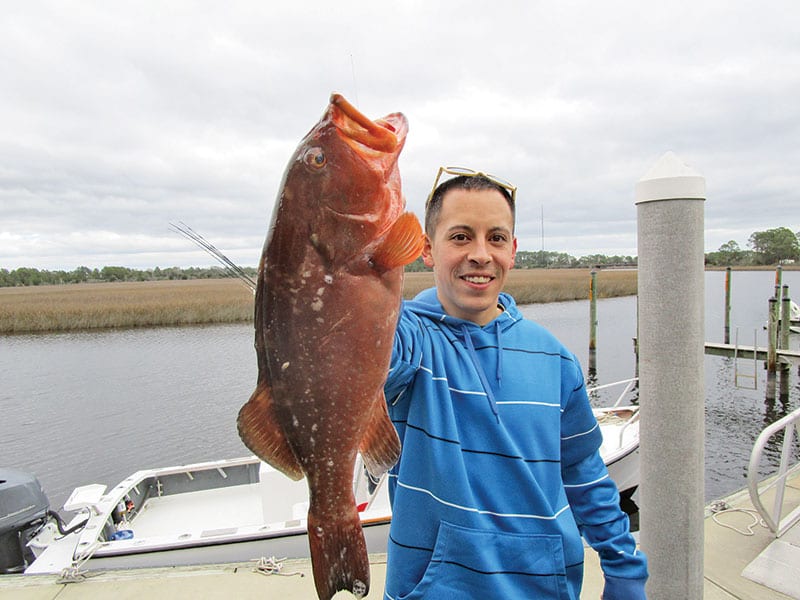 Well it's still cold out there! The water temperature in Saint George Sound hovers around 50 degrees and that's enough to keep most souls on the shore. However, when you can find a break in the winds from a passing cold front, there's a lot of opportunity both inshore and offshore.
Last summer we saw two major storms come up from the South. After those events, we suddenly started catching red grouper in areas that we usually didn't see large numbers of them. Most of these fish were short, but if you stuck with it, a legal 20"-plus red would hit, and in the box it could go. Backed with a good catch of breeding hump-head sea bass and fat Key West grunts, boats can bring in a nice bunch of great eating fish.
Even though gags and red snapper season is closed, there's good angling with light spinning tackle in the 10- and 20-pound line class. Inshore trout and redfish can still be found in the river systems with sheepshead around docks and other structures.
One method a Captain told me was to slow troll a plug like a 52M Mirror Lure that runs just off the bottom and when a trout hits it, mark that spot. Then come back and drop shrimp on a jig head or one on a small hook and sinker. It's a good way to cover a lot of bottom since they may be widely dispersed.
From the shore, there are good bites of whiting around St. George Island and Carrabelle Beach. Try down to the East on Carrabelle Beach away from the crowd and you might even take a redfish.
Hang in there, spring is on the way! Good luck out there and be safe.
CAPT. CHESTER REESE
Natural World Charters
(850) 228-9060