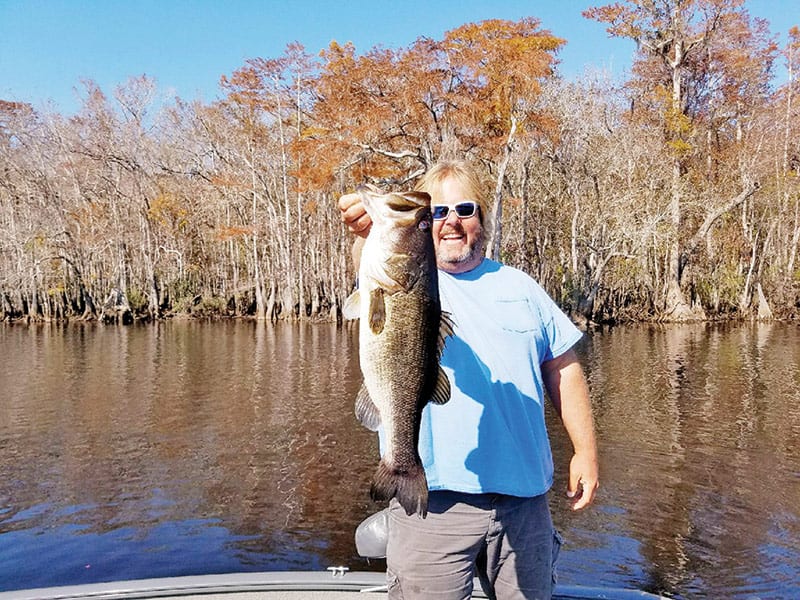 The river level is currently stable but that can change quickly with sudden storms. June water temps vary greatly from main river current and slack waters, ranging from 78 to 90 degrees.
Bass fishing is usually best on the lower end on a falling tide. They can usually be caught on top-waters such as Pop R's, Spooks and other shad imitators. Swim baits in shad patterns are always a good choice too. When fishing these brackish waters, you might hook up with a monster red fish, they've been known to try and snatch a rod out of a day dreaming anglers hands.
The middle section as I call it, is anywhere above East River to the bottom end of Holmes creek. Fishing is usually best around the main river or creeks with moving water. There are still a few fish in the lakes but most have headed out to their summer homes looking for cooler more oxygenated waters. Bass here can be caught on the same top-waters, but spinnerbaits and crankbaits will definitely play a more crucial role as the big girls begin to start hiding in the cooler deeper water. Zoom's Old Monster worms are always a great choice when trying to find this bigger fish in the deeper sections.
The upper end, from Holmes Creek to Caryville has plenty of boat ramps along this section of the river. At the current level the river can be fantastic to fish on this end, but be extremely cautious. There are many snags, lay-down trees and shallow bars that can end a pleasant day real fast. Shallow crank baits, spinnerbaits and swimbaits can put a trophy in the boat on any cast. Try creeks with current such as Seven Runs, Bruce, Sandy and any of the others with decent amount of water flowing through.
It's a beautiful place but extremely dangerous to anyone not giving it the respect it deserves. Stay alert, be aware of your surroundings, take it slow and be prepared. You could catch a fish of a lifetime.
AARON RICHARDSON
Tournament Angler