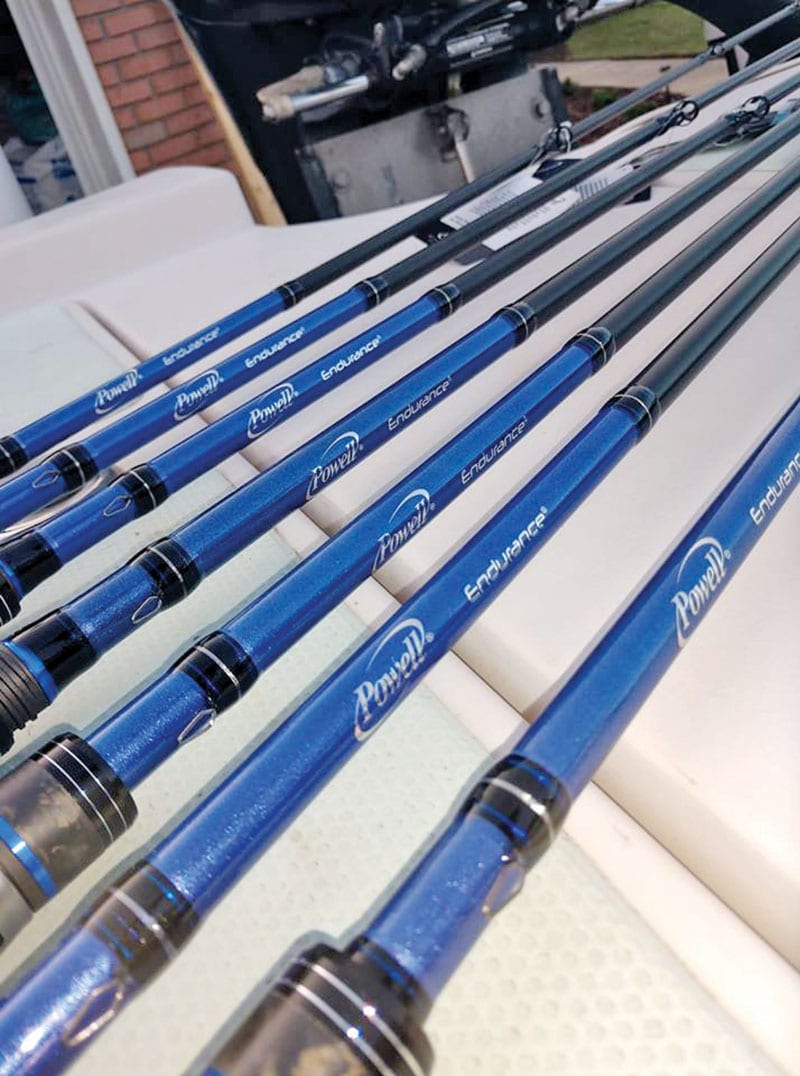 Spring and early summer means I'll be spending most of my bass fishing time launching swim jigs and swim baits over grassy spawning flats in search of pre- and post-spawn lunkers. The primary forage at this time will be panfish like bluegill, bream and crappie that are moving shallow to spawn as well.
My reel brand selection will vary widely, my biggest requirements are speed and distance and I can get that from many models. My rod selection for these techniques, however, is a bit more selective and it all starts in the first ten or so inches of the tip…this is critical! Plus, I don't have to spend a fortune on rods that fill this niche. When slinging my swim bait or swim jig, I almost always use 50 pound braided line, so most any med-heavy rod has enough backbone for solid hookups.
The time from when a fish strikes my lure, to when I swing and set the hook, is when the rod tip is telling me "hey stupid, you just got a bite!" The fast action rod I use, the Powell Endurance 755, has the perfect tip action so the fish doesn't get that same message I just got. That second or two, knowing you've been bit, before the fish feels your rod load up, is your window of opportunity to get a good hook-set when swimming a lure. The 755 is designed to be a cranking rod, but this one, like all I've used in this brand are very versatile and when teamed with braided line, are perfect for this technique. Many heavy or med-heavy action rods that don't have the proper tip action will transmit line tension to the fish instantly. Big fish are especially quick to turn a lure loose in this situation.
Once I've located an active area, or if I'm around bedding panfish, I'll slow down and spend some time slow dragging a soft jerkbait, like a Zoom Super Fluke, or a stickbait like a Gambler Ace or Senko. More often than not, I'll be using fluorocarbon line of various sizes depending on water clarity and cover. Either way, in this application I still want the rod to talk to me long before it talks to the fish. An extra-fast action comes into play here because swinging on a fish on the end of a long cast can often result in lost fish. You need that rod's backbone to come into play faster and load up with force quickly. My Powell Endurance 733 is my go-to rod for this. I also have a Shimano Crucial with similar length and action that works great too.
There are many rod builders producing the tools that fit this style of fishing, so the next time you're shopping for rods, pay close attention to the action of the many different rod blanks…especially the tips because that's where it all starts.
~ Capt. Randy (C-note) Cnota