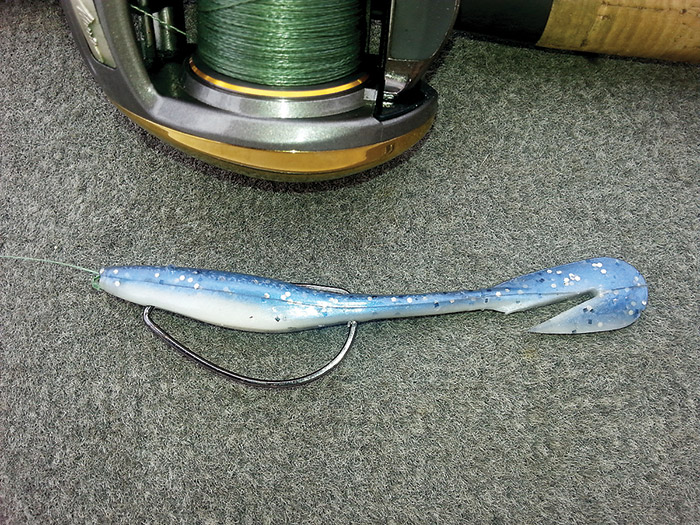 By now, the spawning cycle for bass is mostly finished, but some stragglers may still be on the nests. One thing is certain; bass need to start feeding to put on the pounds and regenerate from the rigors of the spawn. This fact, however, does not mean they'll be smashing big top-water plugs and crushing fast moving crankbaits. Perhaps some days they will, but I will be taking a very subtle approach to getting bass to bite. Top-water baits, like the Rapala F-13 or Megabass Pop-X, are an excellent choice. Work these baits close to grass and wood on a medium action rod and 12 lb. test monofilament.
For getting bass out of the thick grass, a buzzing frog is always a good choice, but try buzzing a 4 ½" Producto Lures Buzztail Shad over the thick stuff instead of a frog. It's much smaller and gives off a more subtle action, but bass find it irresistible! Rig this light lure on a 3/0 super-line hook and 30- to 50-lb. braided line. It's very hard to cast with a baitcast reel (but it can be done) so you might want to use spinning gear. Finicky bass are more likely to hit this bait than other similar lures due to its size and action, and with this set-up you can haul some big ones out of the thick stuff with it.
Keep an eye out for the bream beds. You can catch a bunch in a hurry when you find them; just drop a red wiggler in the middle of the bed rigged with a split-shot weight about 6" above the hook.
Good fishing and God bless.
CAPT. RANDY "C-NOTE" CNOTA
C-note Charters
Panama City, FL
cnotecharters.com
(229) 834-7880