From Shinnecock to Jones Beach, it's hard to beat the surfside blitz along Long Island's South Shore.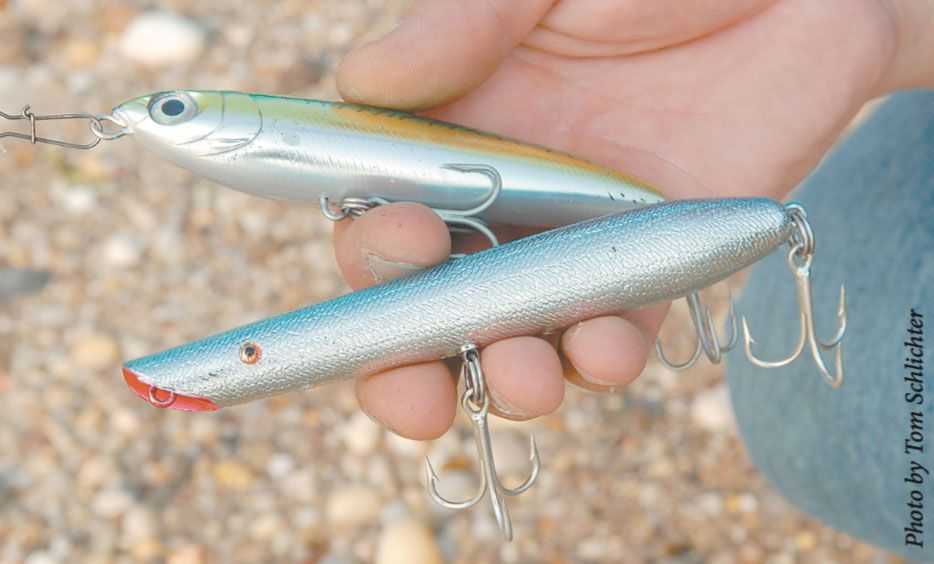 It's no secret that the legendary run of bass and blues that commences each fall along Long Island's southern shores offers outstanding fishing. As water temperatures drop through October and into November, the surf along this stretch is recharged with baitfish pouring out of local harbors, bays, rivers and tidal creeks to begin their southward migrations, setting up a massive chum slick that draws stripers and blues with a chip on their shoulder.
While Montauk may be "Mecca" in October, November sees the action slide ever westward along the coast – and the action often shifts as different baitfish types advance while others linger. Paying attention to these changes helps tremendously in terms of lure selection and in knowing where and how the baitfish might stack up. The later into the season, and the further west the schools, the more important it becomes to fish points, coves and inlet areas.
"We see tremendous action starting in mid-October and running right through Thanksgiving from Moriches Inlet west to Smiths Point Park," said Paul Graniello at J & J Bait and Tackle in Patchogue (631-654-2311.) "Here, however, we count on the wind to push the bait tight against the shore as it pours out of Moriches Inlet. Most anglers toss a mix of tins and bottle plugs in this stretch, hoping for winds out of the northeast or southeast and a retreating tide to match up on an overcast day. When that happens, the bass and blues can be ferocious in the surf."
Graniello notes that any moving water can be productive through this stretch, but the top of outgoing tide really sports an edge once the baitfish have mostly flushed out of Moriches Bay. "You've got adult bunker, spearing, sand eels and peanut bunker streaming down the beach," explains Graniello. "All that bait can really light up the action for anglers casting poppers and tins. Even when the surf appears quiet with no explosions on the surface, you can bet some real big fish are still cruising the bottom, looking to scoff up bunker chunks.
One place you want to give a shot in this area is Great Gun Beach, about three- quarters-of-a-mile west of Moriches Inlet. Here cut bunker and tins work fine but when surface action erupts a blue, 1-1/2-ounce to three-ounce Super Strike Little Neck popper reigns supreme. Stripers to 40 pounds fall for this lure here every year.
While the hordes of baitfish making their way west from Moriches Inlet is often enough to draw predators to the Fire Island surf, the arrival of sand eels – some years they show and some years they don't – triggers exceptional action in the wash. Whereas most baitfish schools flee down the beach as the bass and blues arrive, terrified sand eels burrow into the sand, locking their schools in place for days at a time and resulting in ferocious action.
"The arrival of sand eels along the beaches is like tossing gasoline on a fire," continued Graniello. "When the sand eels are here, you can hammer fish after fish on slender tins or on any lure teamed with a small teaser. Toss Ava-27 or -47 style diamond jigs without tails, a slender Hopkins No-Equal or a soft plastic swim bait and it's hard to miss once the bass and blues have the sand eels pinned against the beach."
There are days when this South Shore action lasts from morning through night but, more often, it is tide specific. Consider the top of the ebb as your best starting point most days but don't overlook the late flood. On just about any tide, there is also usually a shot of action at dawn and dusk. If the sun is intense and the tide is tough, expect the best of the action to take place between sunrise and 9:00 a.m.
As the baitfish and their relentless pursuers push ever south and west along the oceanfront, the fall blitz shifts to the West End. Usually, this starts in earnest a little before Halloween and builds through the first week or two of November. With generally mild temperatures, the action might last through Thanksgiving.
"Early in the run," explains Rob Grecco at The Long Island Outdoorsman (516- 678- 5554) in Rockville Centre," all the standard stuff works. That's assorted tins, swimming shads and poppers. Once the sand eels show, however, it's tins, tins, tins!
Grecco suggested shore casters toss slender meats and enjoy the action with lighter gear than they might use when bunker chunking. He noted that Ava-17 and -27 diamond jigs with green tubes have been the hot ticket, although you might pull a bigger bass or two on a Super Strike Needlefish now and then.
"Interestingly," revealed Grecco, "the bass can be so thick along the West End beaches when the sand eels are present that bluefish might not even be an issue. This is especially true as you get later into November. Expect to catch mostly schoolies to about 12 pounds, but know there are usually some keepers in the mix. It's the kind of action where even novice surfcasters can get in on the fun, and it is perfect for introducing youngsters to the joys of surf fishing."
Easily accessible hot spots along the West End include the inlet mouths, Field Six at Robert Moses Beach, Field 2 at Jones Beach and Breezy Point.
West End 2 is another place any surfcaster working this stretch should explore. As compared to the mostly non-descript beaches along Fire Island, it offers jetty fishing, a sandy beach on the ocean side and a mix of sand, rocks and structure on the back side so both fish and anglers can find plenty of real estate to suit their needs. The bait and wait crowd scores well here with cut herring, bunker or mackerel, while those who favor lures can have a blast casting tins, poppers or bucktails tipped with pork rind – a favorite target for stripers. Fish this area on an early morning ebb if you get the chance.
Naturally, you'll need sturdy tackle to battle the fall run bruisers, but don't over-do the heavy gear. A nine- to ten-foot surf setup with 17- to 20-pound test line should be enough to wrestle West End and South Shore bass and blues until your arms are ready to give out. If you plan to fish further east, from Shinnecock to Montauk, go with a 10- or 11-foot stick and 20-pound test line as a minimum.
Although special permits are required to drive the beach, and some town and county parks are for residents only, the New York State Park and Federal Park systems allow plenty of access. Head to Heather Hills State Park, Robert Moses or Jones Beach and you'll find plenty room to roam.