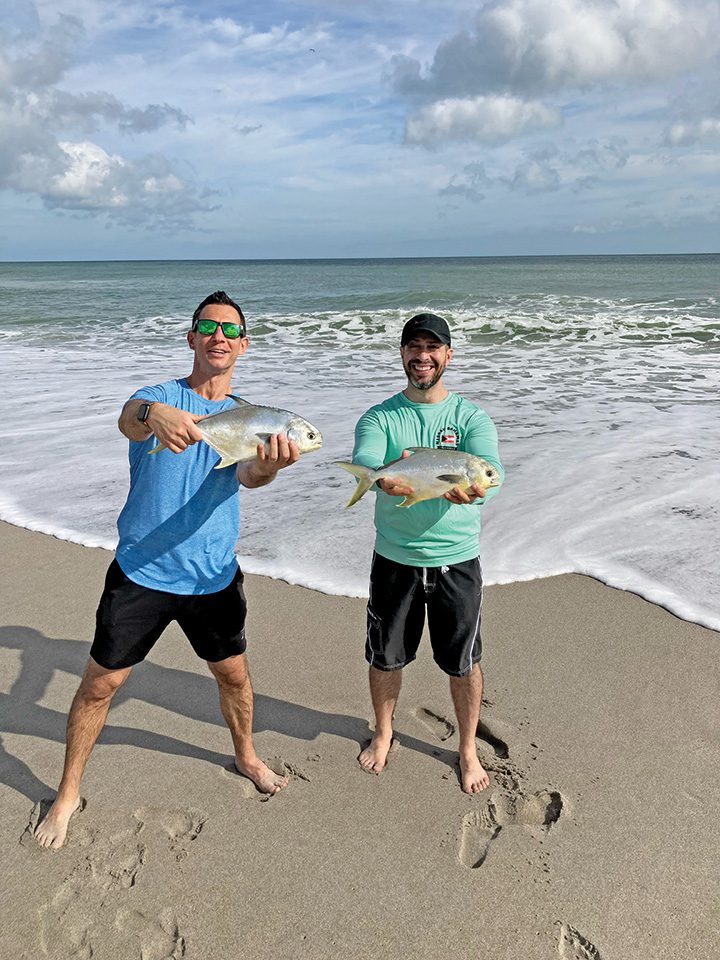 Pompano fishing reaches the Space Coast with a flurry at last. The moment we've been waiting for, Florida surf fishing anglers anticipating the annual pompano migration can rejoice. The recent reports have had mixed results, but those in the know have been striking it big! Bait, rigs, location and tides hold the key to success (or failure) in targeting pompano. For this reason, we encourage all seasoned and new coming surf fishing anglers to brush up on their skills and put themselves in a position for success.
Although pompano remain the highlight of our Space Coast surf fishery, there's been plenty other species perusing the surf. Bluefish continue to feed furiously in waves of fish biting anything from cut bait to lures and anything in between. When bluefish are fired up in the first and second trough, it seems you can't keep them off the line. If bluefish are your intended species, then be sure to use flashy pompano rigs or throw Gotcha lures and spoons with a rapid retrieval for best results.
In spite of the bluefish flurries, there's also jack crevalle, black drum and ladyfish in the mix. These species are all being caught on similar rigs. Custom tied pompano rigs with floats and beads in various renditions prove the most successful. Adding small pieces of Fishbites in the chartreuse and electric chicken colors with flavors pertaining of clam, crab and shrimp seem to work the best. Knowing this, we love to teach our clients how to tie these custom rigs. Store-bought rigs are useful, but lack the capability to target specific patterns for detailed fisherman looking to catch exponentially more fish than others.
Certainly, with all this life about, the sharks are in no short supply. Blacktip sharks taking fresh cut bait in the first and second trough prove quite the battle for most shore bound anglers. Heavy drag makes the battle quick work, albeit some back breaking action when you really put the hammer down to get their heads turned. Cocoa Beach Surf Fishing's shark fishing charters are a great way to experience the thrill of catching a shark near Cocoa Beach or Melbourne Beach—especially if you want to learn the process of safely catching, landing and handling a safe release on these apex predators.
With the holiday season winding down and the pompano season upon us, be sure to be up to speed on the fishery. For this reason we are offering another surf fishing seminar on Saturday, January 7, 2023. Having such a good turnout for the previous seminars and so many happy clients we decided it's time for another. We'll be going over everything it takes—from start to finish—to successfully catch fish in the surf, specifically targeting techniques revolved around catching pompano, whiting, black drum and bluefish in the surf. We'll also be covering how to read the beach, weather forecasting, tying pompano rigs, best equipment, one-on-one surf casting lessons and so much more. This once-a-month, four-hour surf fishing seminar is held on the beach and includes everything an individual participant needs. There's only 8 spots left available and the price is $150 per individual. Be sure to book your spot so you don't miss this chance to take your surf fishing game to the next level.
Capt. Lukas Brickweg
Cocoa Beach Surf Fishing Charters
cocoabeachsurffishingcharters.com
(321) 205-4672