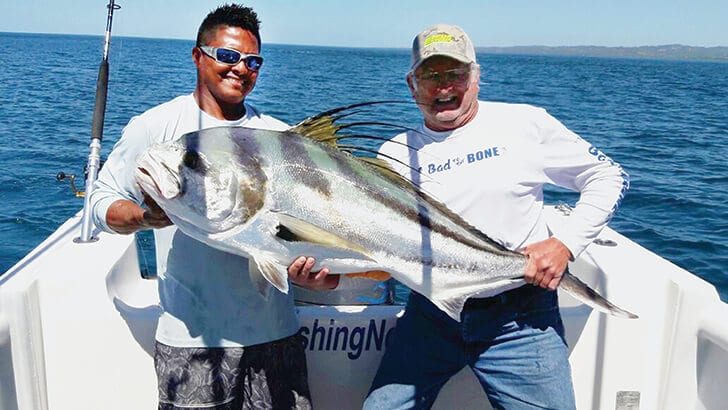 The 2018 season is in full swing in Nosara, Costa Rica. The five boats of the FishingNosara team have already run 225 trips since our season kicked-off in November, and show no signs of slowing down.
As usual, the flagship Wanderer has led the charge with great action this season. One of our favorite anglers Leah Merryfield helped the Wanderer ring in the New Year with a great day of action on Jan. 1. Capt. William found a 40-plus-pound dorado lurking offshore, and Miss Merryfield was there to land the monster. Mate Johnny had his work cut out for him to filet this big green beast. With dinner on ice, Mike battled a big sailfish all the way in for the release. Filets for the table and another trophy release for the scrapbook… that's a perfect day of fishing to kick off 2018.
On Jan. 9, Soren and Marianne Dalberg-Pedersen had a big day with Captain William, highlighted by a pair of awesome marlin releases. They added a big dorado for the icebox, and all of this happened on just a five-hour, half-day trip!
Our big battleship Discoverer also has been delivering big fish and big smiles. Our dear friend Jerome McKown continues to add to his FishingNosara Hall of Fame resume with a great day of action for his group on Feb. 1. After a sweet sailfish release, these Texas anglers scored a nice yellowfin tuna with a baitcaster reel he brought from home.
Ryan McPherson joined Captain Carlos and had the best five-hour trip you can imagine on Jan. 31. First up was a big blue marlin release. The blue water kept producing with an excellent sailfish backed up by a tasty yellowfin tuna.
Our newest weapon, the 32-foot Eduardono mega-panga Harvester, has already redefined the potential of panga fishing in Central America. After three full days of fishing, angler Chuck Hanford saved the best for last with a mammoth roosterfish release on his final day of action on Feb. 5. This monster was a legitimate 60 pounds, proven by Captain Alex's Bogagrip. Great work by the mega-panga to photograph and release this monster.
Meanwhile, our smaller pangas, the Explorer and Adventurer, are delivering the best bang-for-your-buck fishing action in all of Central America. The Explorer put on a show for Maurycy Krzastek, of Poland, with a wonderful day of action on Jan. 12. The fish were fired-up as the Explorer released not one but two mighty marlins. This amazing feat was backed-up with plenty of dorado, so these boys will be well fed. Great work by Captain Fico!
The Adventurer scored a swarm of permit, snappers and yellowfin tuna on Jan. 6. Want to have ceviche, sushi and filets all in one meal? Captain David is known for delivering a wide variety of edible delights every time he hits the water.
Daily updates on the team's catches are available at blog.fishingnosara.com and on the major social media platforms.