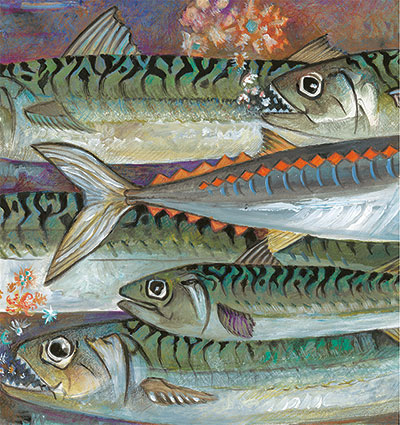 Serves 4
INGREDIENTS
4 whole herring, scaled, gutted and rinsed
2 tablespoons extra-virgin olive oil
1 fennel bulb, cut into 8 wedges
Kosher salt to taste
1 lemon, halved and thinly sliced
4 sprigs dill
4 sprigs parsley
Lemon wedges for garnish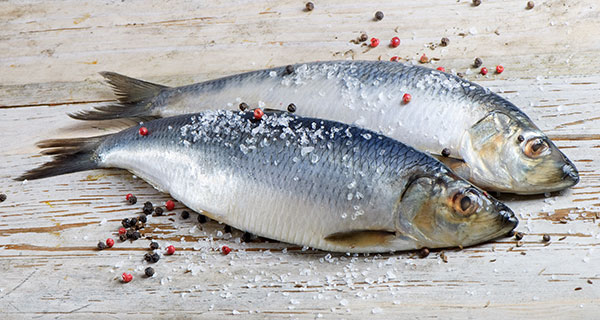 DIRECTIONS
Make slits in fish with a sharp knife. Rub oil over fish and fennel wedges. Season both sides of fish and fennel with salt. Divide lemon slices, dill, and parsley, and place into the cavity of each fish. Grill fish and fennel over charcoal for 6 to 8 minutes or gas grill for 8 to 10 minutes, turning over halfway through cooking. Serve with lemon wedges.
You may substitute the herring in this recipe with mackerel, sardines, smelt, or other small fish.
This recipe can be found in "Simmering the Sea, Diversifying Cookery to Sustain our Fisheries" a new local seafood cookbook produced in collaboration between the non-profit Eating with the Ecosystem, the University of Rhode Island, and Johnson & Wales University.
For more delicious recipes and to pick up a copy of the new cookbook visit www.eatingwiththeecosystem.org/simmering-the-sea.
Herring Trivia
The Northwest Atlantic herring fishery was traditionally one of this region's most important. Native Americans used brush weirs to catch herring near the shore. At one time, herring were a staple of Northwest Atlantic cuisine, and canneries for "sardines" (small herring) dotted the rocky coast of Maine. Nowadays, herring rarely make it to the seafood market or dinner table. Instead, most are used for lobster bait. This is unfortunate, for not only do herring lend themselves well to preservation by canning, smoking, and pickling, but they also are delicious when cooked fresh.