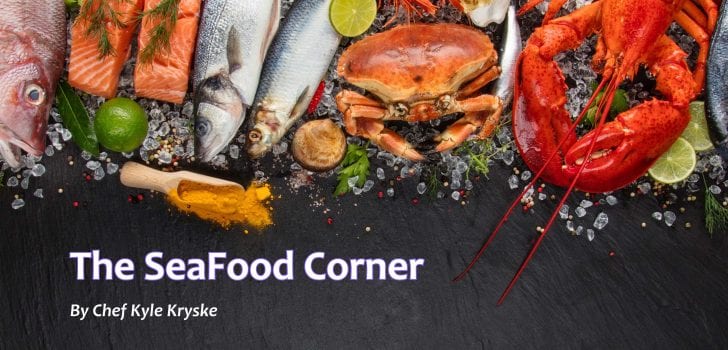 Fishing off the coast of Charleston we are lucky to have a wide variety of grouper. There are many species but some common ones are Gag, Scamp, Snowy, Black, Red, and Red Hind.
Hopefully you know where to catch these prized fish, but if not your local seafood purveyor should have some available. They are normally not inexpensive, but they are worth it.
This month I am preparing fried cornmeal encrusted grouper strips with jalapenos and lemons. It is accompanied with a chipotle-tomato, and honey dipping sauce.
This dish is great for an appetizer or entrée.  Start by getting a few ingredients.
You will need 1 small can of chipotle in adobo sauce, fresh garlic, honey, 1 lime, 2 lemons, 1 ripe Roma tomato, 1 small bunch cilantro, 2 jalapenos, cornmeal, flour, Old Bay, kosher salt, ground coriander, cayenne pepper, Dukes Mayo, buttermilk, and 1 pound of grouper.
Lets get to the dipping sauce first. Get a food processor and add 2 chipotles peppers out of the can, ¼ bunch cilantro, 1 T Garlic, 1 Roma tomato diced large, 1 T honey, juice of 1 lime, 1 cup mayo, and salt to taste. Puree until smooth and put in a bowl and refrigerate.
Next, start the cornmeal breading. Get a bowl and add 3 cups cornmeal, 2 cups flour, ¼ cup Old Bay, ¼ cup Kosher salt, 2 T ground coriander, and 1 T cayenne pepper.
Mix well and reserve. Now that the sauce and breading are prepared get your portable fryer and put it on 350 degrees.
You may also enjoy reading How To Purchase Fresh Fish
While that is heating up get your grouper and cut it into ½ inch strips, slice your jalapenos into rings, and slice ½ lemon into thin rings and place in a bowl.
Coat all of it well with buttermilk. Pick the grouper, jalapenos, and lemons out and transfer to the cornmeal breading.
Toss and mix well to ensure that everything is coated well and not stuck together. Put the items in the fryer and cook for about 4-5 minutes or until golden brown.
Take out of the fryer and drain on paper towels. Serve it immediately with the sauce and additional lemon wedges. Enjoy!
Feel free to add or take out ingredients. For the full recipe scroll down below past the article.
– Chef Kyle Kryske is a native of Pascagoula, MS. He has resided in Charleston for 15 years & has been cooking in restaurants for 18 years. He has worked in MS, AK, NC, and SC. and is Chef de Cuisine at Coast Restaurant in Charleston. Kyle is a graduate of Johnson & Wales University. When he is not working he is either inshore or offshore fishing.
*For Charter information or Merchandise Visit @penaltyboxfishing on Instagram.
Cornmeal Encrusted Grouper Strips with Jalapenos and Lemons Accompanied with a Chipotle, Tomato, and Honey Dipping Sauce
Ingredients for dipping sauce:
2 Chipotle Peppers- from a small can of chipotle peppers in adobo sauce
1 Ripe Roma Tomato- diced into large pieces
1 T Fresh Garlic
¼ Bunch Cilantro- chopped
1 T Honey
1 Lime- Juiced
1 Cup Dukes Mayo
S & P to taste
Ingredients for Breading:
3 Cups Yellow Cornmeal
2 Cups Flour
¼ Cup Old Bay
¼ Cup Kosher Salt- I prefer Diamond Crystal brand
2 T Ground Coriander
1 T Cayenne Pepper
Ingredients for Fish, etc:
1 lbs. Grouper cut into 1/2 " strips
2 Jalapenos sliced into rings
½ Lemon sliced thin into rings- seeds removed.  Yes they are fried and yes they are delicious
Buttermilk to coat
Method of Preparation for Sauce:
1.  Get a Food Processor and add all the above ingredients.  Blend until smooth and refrigerate
Method of Preparation for Breading:
1.  In a bowl mix all the above ingredients well and reserve
Method of Preparation for Fish, etc:
1.  Start by heating your portable fryer to 350
2.  Get a bowl and add the fish,, sliced lemons, and sliced jalapenos.  Cover with buttermilk and mix well.
3.  Add the fish and such to the breading.  Mix well to ensure nothing is stuck together
4.  Fry it for about 4-5 minutes max until golden brown
5.  Take out and serve immediately with sauce and lemon wedges, enjoy