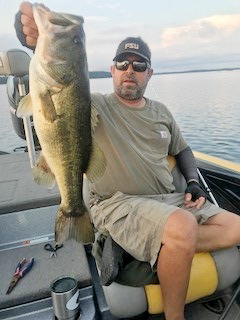 Lake Conditions: full pool, clear to stained and 86 degrees.

The temperatures are heating up and so is the bass fishing on Lake Seminole! The bass have been hitting top-water lures with a vengeance as they feed for the summer. There are three top-water lures that are must haves this time of year: a buzz-bait, a walking bait and a hollow-body frog.
My go-to buzz-bait is a Strike King Swinging Sugar Buzz Bait in 3/8 oz., chartreuse and white, fished along the grass lines on the main lake. I really like this new bait because the free-swinging hook design makes it harder for the bass to throw the hook; it also gives additional action to the trailer. For a walking bait, I prefer the Strike King KVD Sexy Dog, in bone color, fished along the grass lines in the Spring Creek arm of the lake. The lily pad fields on the Flint and Chattahoochee arms of the lake have been very productive with hollow-body frogs. I use a Strike King KVD Sexy Frog in leopard. Getting big bass out of the pads requires the use of a 7' to 7'7" medium heavy to heavy action rod with at least 50 lb. test braided line.
The stripers and hybrids have been plentiful on the lake and have been schooling and feeding regularly on shad. A local family recently went out for the day and caught some huge fish on umbrella-rigs. It was a great day of fun!
Bream and shellcrackers are still bedding in the lake and have been seen coming across the docks at Wingate's Lunker Lodge by the coolers full. They're being caught with crickets and worms.
For guided fishing trips, please call me at (850)264-7534.
CAPT. PAUL TYRE
PaulTyreFishing@yahoo.com
850-264-7534