Gator sets new record—13 FEET, 10 3⁄4 INCHES
By Nick Carter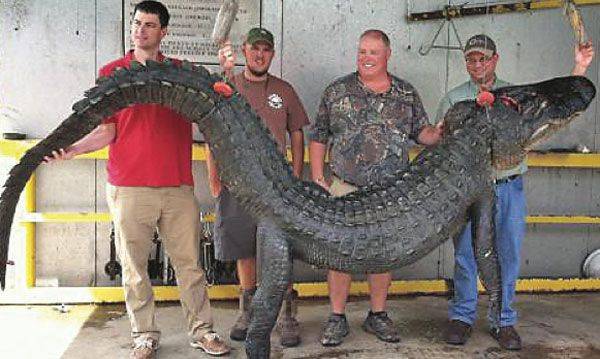 [dropcap]T[/dropcap]he new 13-foot, 10 3⁄4-inch Georgia state record alligator would still be swimming in Lake Seminole if it hadn't been for a last-minute change of plans the evening of Sept. 25.
Tag holder Jim Overman, Daniel White, Alex "Bud" Harrell and Gary Braswell, all of Bainbridge, Ga., put a tag in the 620-pound beast that Wednesday night, but an incidental sighting and Decatur County's good ol' boy telegraph were the key components that made the hunt possible.
Overman was going for broke with his Zone 2 gator tag. It took five years of rejections to receive the coveted permit, and he had decided he wouldn't harvest anything short of a monster 12-footer. Southwest Georgia's Zone 2 for alligator hunting is the best place to find alligators that size. It includes Lake Seminole, which has produced six of Georgia's Top 10 alligators. The previous state record of 13-feet, 9-inches and 692 pounds was caught at Seminole in 2010.


Overman began his scouting by phone, looking for someone with knowledge of a giant gator. His buddy Gary Braswell, of True-Life Creations Taxidermy, in Bainbridge, was the connection that led to his change of plans on Wednesday, Sept. 25.
Overman didn't even know Alex "Bud" Harrell and Daniel White, the two guys who first spotted the gator while scouting ducks for Georgia's early teal season. They said the alligator was unafraid and swam toward their boat. Almost immediately they began searching for a tag-holder. They called Braswell, who called Overman.
When he got the call, Overman was preparing for an airboat hunt with another buddy that night. Plans changed, and shortly thereafter he and Braswell dumped Braswell's 17-foot aluminum boat into Seminole at Sealy's Landing. Harrell and White were in a separate, similar boat. The four hunters spotted the gator while it was still daylight at about 7:15 p.m.
"It took about two minutes for us to find it," said Overman. "It was out in open water lying on a big hydrilla mat. As soon as I saw him, I knew he was exactly what I was looking for, a big bull alligator."
The four hunters devised a plan to bracket the big gator with the two boats. True to Harrell and White's report, the alligator was not afraid. It stayed put while they eased up on either side of the animal.
John Denton, a biologist with the Georgia Wildlife Resources Division, said it was unusual behavior. He said a gator that large is likely near the end of its life expectancy of 50 or 60 years. Typically a gator that old has been hunted and will disappear underwater when it is spotlighted or approached by a boat. He also said there's no way to know why it let the hunters get so close.
Overman, who has a background in wildlife biology, has a theory. At 620 pounds, the alligator was on the low end of the healthy weight spectrum for a gator that length. Later, the hunters also discovered it had a damaged eye and its belly was empty. Overman suggested the old alligator was hungry, irritable and likely on the decline.
Whatever the reason, Overman got within 5 yards of the beast to fire the first shot from his compound bow. An instant later, Harrell released an arrow from the other side. It was a good thing he did. The line on Overman's arrow tangled, and the first shot never reached the alligator.
"That alligator dove instantly," said Overman. "He took the arrow, 30 yards of line and the buoy under the hydrilla mat. Everything disappeared."
At a loss, the hunters began searching the bottom in 6 to 9 feet of water with push poles. More than an hour later, White poked the gator. Braswell managed to hang the line attached to the arrow in the alligator's side. He twisted the pole until it was tangled in the line and handed it off to Overman. Braswell was about to harpoon the alligator when the animal decided it was time to leave.
"I had that pole braced between the pedestal seat and the edge of the boat just to hold it," said Overman. "I was on my knees holding on with two hands. It was a tremendous amount of pressure."
It was enough pressure to snap the 850-pound-test line, and Overman's heart sank. But the hunters weren't ready to give up. At about 9 p.m., they spotlighted the gator when it surfaced. This time things went more smoothly. Harrell arrowed the gator and Braswell harpooned it. With two lines in the beast, the fight began.
"At that point he got very, very aggressive. He had a purpose. He came back at the boat all puffed up and looking really big," said Overman.
Overman, holding a .357 magnum he had never fired before, plunked the moving gator several times in the depression behind its eyes from about 15 yards. The gator went straight to the bottom.
"I was amazed. I'm pretty proficient with a bow," said Overman. "But with a handgun, the safest place to be is if I'm shooting at you. All of those shots hit the gator about where I was aiming."
With the gator now stationary on the bottom, the hunters were able to secure it with two more lines on treble hooks. They hauled it up off the bottom. It took two more rounds from the .357 and a knife cut through the alligator's spine to make sure it was dead. It took all four men to load the massive animal. They got back to the ramp a little after 11 p.m.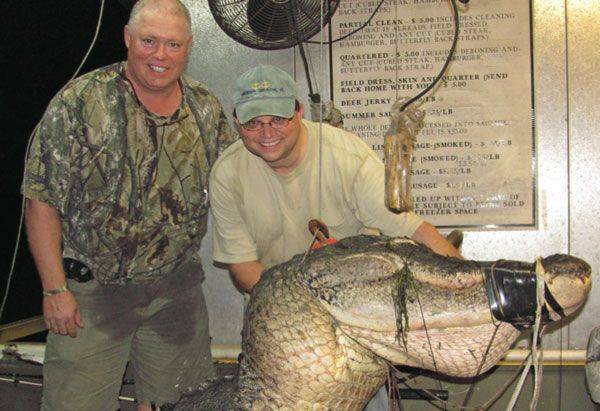 Bass Pro Shops has agreed to mount Georgia's new state record alligator for display. Once the taxidermy work is finished, it will find a home at either the Macon, Ga. or Tallahassee, Fla. stores. Denton wanted to point out that alligators have made a remarkable comeback since they were listed as endangered in 1967. Their protected status was removed in 1987 and populations have been stable since.
Denton said hunters are the Wildlife Resources Division's most important management tool.
"It's not so much that hunters reduce population numbers. They only take 200 to 300 each year," he said. "Instilling a healthy fear of humans is what these hunters accomplish. I believe hunting reduces the conflicts we might have with these potentially dangerous animals."