Lake Talquin is approximately 10,000 acres when full including tributaries and backwater areas. With January's below average temperatures, Talquin will fish like three different entities. First there is the upper end and the actual river. This area has stayed the warmest with shallow backwaters and constant flow. Bass will begin to stage in areas like 4' to 6' deep river ledges, waiting for conditions to get right and begin their spawn. Large, aged cypress trees line up one after another like soldiers protecting their king. In this case the root system acts like a series of castles with big mama bass being the Queen inside. Often, just past the edges of these fortresses are the drops you should seek.
Next would be the mid-lake area from Williams landing to Goat Island. Over the past 20 years FWC has planted structure like cattails which line specific hard bottom edges making perfect spawning areas. Usually there is deeper water for staging bass to hold in nearby. Look for these areas on the North side of the lake as the sun will hit these the longest. As water temperatures reach into the upper 50's to low 60's bass are attracted to these like metal to a magnet. Mid-lake areas also include the main river channel and humps and ledges where bass will stage and or live and feed. Not all bass spawn at the same time but if you prefer not to fish off shore, these tips should help.
The third area is the lower-lake, from Oklawaha Creek to the dam. Many large creeks line both sides of the lake in this section. Main river channel areas will be the deepest and where they meet the mouths of the creek channels can be a bonanza. When water temps are still too low for bass to move to the creeks they congregate in these spots; so do striped bass, crappie and loads of baitfish. Deep running crankbaits, large heavy spinner baits and jigs are all great baits for fishing these stopping points. On windy overcast days bass will move up in the water column chasing bait. Another great bait is the Alabama rig. For those who've never fished one you need to check it out, but there's just too many variations and details to this rig to cover here. I do however like the Yumbrella brand.
Wind plays a huge part of when, where and how to fish this lake. Thankfully, there are multiple ramps on both sides of the lake making it beneficial for those with smaller boats, canoes or kayaks.
Remember, when water temperatures hover around 60 degrees or below, it doesn't take long for hypothermia to set in should you happen to fall in. I can't stress enough the importance of wearing a life jacket this time of year, especially when fishing alone!
Until next month, be safe have fun and ALWAYS wear a life jacket while boating.
For more detailed information visit my website www.fishtallahassee.com.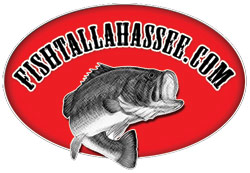 JR MUNDINGER
(850) 296-4071
www.fishtallahassee.com
fishtallahassee@yahoo.com