Lake Talquin started the year off with bass sitting a little deeper than past years as cold front after cold front blew through the Tallahassee region, but January had some very warm days, even hitting the 80's once or twice. That fired the bass up and put some right where they need to be along deep edges adjacent to spawning grounds. Fast forward to February and it looks as though we'll be back on track for some great fishing for staging bass.
Talquin is a man-made lake and one of the deeper lakes in Florida. Even with it's tanic color it takes the lake a little longer to warm than others. There's also no vegetation in the main lake and that keeps the water clarity down.
Big bass can be found on many points and long, sloping ledges that lead into creeks and backwater areas with sandy shore or flats. You can easily find these by looking for lily pads.
Crappie can also be found in the lily pads this month and that's really the species Talquin is known for. Anglers from across the South East drive hundreds of miles to fill their coolers with these tasty guys. Many refer to them as "speckled perch." There are two species of crappie: black, and white. These ones here are all black crappie. They don't grow as big as their white cousins but Talquin holds the black crappie state record of 4 pounds…that's a big crappie! Minnows are the preferred way to catch them but there are others like myself that like to toss small curly tail jigs on an ultra-light rod. No matter how you catch them, they're all the same in the frying pan!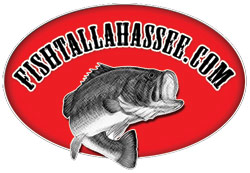 JR MUNDINGER
(850) 296-4071
www.fishtallahassee.com
fishtallahassee@yahoo.com