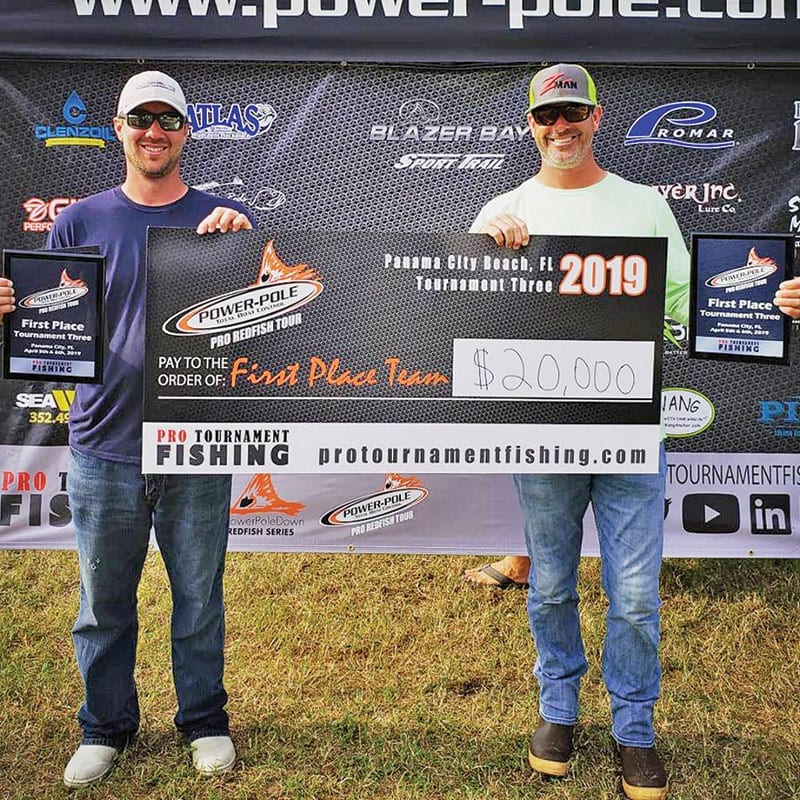 How Justin Leake & Ricky McNaron Brought Home Gold
Justin Leake, owner operator of Panama City Inshore Fishing Guides and his partner Ricky McNaron took home the gold besting 50 teams and winning the 2019 Power-Pole Pro Redfish Tour Qualifier here in Panama City Beach netting a whopping $20,000 payday…WOW!
For some time now Justin has competed with the redfish legend Fred Myers quite successfully, but this year he teamed up with Ricky because he couldn't commit to traveling to participate in the other qualifying events due to format changes in this series. With this trail making only one stop here in PC, Justin could only compete in this one event, but he and Ricky put together the perfect plan and executed flawlessly.
The weather in this event was terrible with storms and winds that threatened the entire field and had a significant impact on the bite and angler safety.
While Justin and Ricky held the lead after scales closed on day 1, Justin's trolling motor, a vital piece of equipment to redfish competition, broke down. The crew from Southern Marine Service came out and repaired it in the rain. Unfortunately at their first stop on day 2, it didn't want to work again. These are the kinds of things that get inside a competitors head and can take you out of the game. After making some on-the-water repairs, all while watching Fred and Britt hammer the fish, they were back in action to bring home the meat on day 2. Fred Myers and Britt Ordes still finished strong in 3rd place.
With a total winning weight of four fish for 26.25 pounds, Justin credits their success to perfect execution and the many people around him. While Justin has been an accomplished angler and fishing guide in his own right, he admits that the lessons he's learned from Fred, and friend Kenny McGill, about tournament competition served him well in this event. The many nuances about fish care, fish management, avoiding penalties, multi-day strategies and so much more are not always on the minds of average anglers, but make all the difference in successful tournament competition. Razor-thin weight margins require perfect decision making and execution and that's exactly what they did.
The relationship between Justin and Fred in this event was interesting considering they knew going into it that they'd be fishing the same areas for the same schools of fish. The fishing styles of Justin and Fred are quite different. Fred has a very fast boat and likes to rocket across the bay at break-neck speeds to get to the fish before anyone else, and this has worked for him with a stunning winning record on a variety of redfish trails, no doubt. Justin's rig however, is bigger and slower and fits his lay back approach perfectly. He eases his way to the fish in a comfortable ride and gets to work. Justin notes that, while winning $20,000 was really great, not having to "white knuckle" ride in Fred's boat for two days was the highlight of the event.
~ Randy Cnota