November and December were strong months for fishing and January should keep the trend going if the weather and water temperature cooperate.
Two years ago we had a nasty cold spell that was tough on the trout population, but they seem to have rebounded nicely around the pier.
If mild temperatures prevail this winter, the trout and sheepshead action seen in November and December should carry over.
Target trout during the last two hours of the outgoing tide and the first two hours of the incoming.
Artificials like Billy Bay, Vudu, ZMan, and Bass Assassin are all popular among trout fishermen.
One popular method is to cast parallel to the pier and work your lure back at various depths and speeds.
As the water temperature dips you'll want to slow your retrieve significantly since the fish won't be as active.
Don't underestimate letting it sit on the bottom and bumping it along slowly as you might just run into a flounder still hanging around.
Some sheepshead will move to deeper water as it gets colder, but there's also a resident population that typically hangs around the pilings and can be caught year round.
During the winter months, pier anglers have better luck with clams or barnacles than fiddler crabs.
November thru February are typically the months we see some of the largest sheepshead
The crabs will still produce though if you have the patience to sift thru some smaller fish and donate a few to the known bait stealers.
November thru February are typically the months we see some of the largest sheepshead caught each year.
It is not uncommon to see catches in the 7 – 10 pound range with some pushing 12 pounds or more.
At the time this article was written we've seen 4-5 sheepshead over 8 pounds and a beastly 10 pounder in the past couple of weeks.
If you like fishing for convicts this is the time of year for you. Catch sheepshead and maybe win some prizes!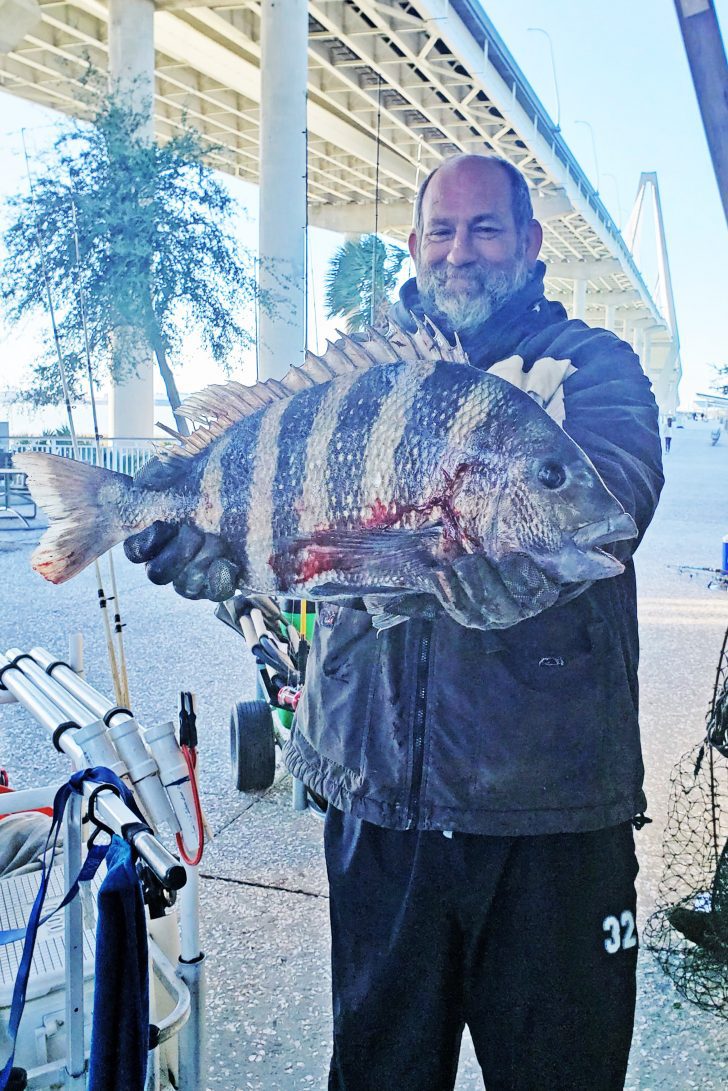 The Mount Pleasant Pier invites anglers to test their skills in the Winter Sheepshead Challenge from December 1st to February 28th.
Prizes will be awarded for the 3 largest sheepshead by weight.  Stop by the River Watch Café and Gift shop on the pier for more details and to weigh your fish.
Fish must be of legal size and caught from the Mount Pleasant Pier. Good luck!
For any additional information about the pier or what's biting this week feel free to call the River Watch Café & Gift Shop on the pier at 843-762-9946.
Chris Pounder, CPRP Manager
Charleston County Park & Recreation Commission | Mount Pleasant Pier
For more info please contact the pier at (843) 762-9946
or visit www.charlestoncountparks.com
You may also enjoy reading: Are We Losing Our Habitat?