By Capt. Mark Wright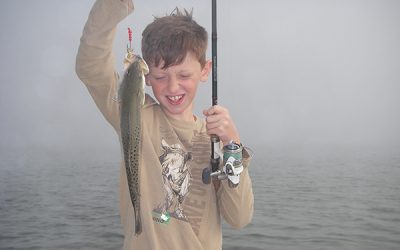 Low water levels indicative of the winter season should continue through the month of March. This factor serves to eliminate much of the real estate our predatory species often use to ambush their meals.
Unless you're wading or fishing from a kayak, canoe or micro-skiff it is often necessary to patrol the outer edges, rather than on or across your favorite flat. I don't look at this as a problem as most of the critters have exited the extreme shallows for slightly deeper regions.
I've been "hunting" tailing reds and black drum in transitional areas where the super shallows give way to just enough water depth to float my skiff. On occasion, especially in areas where there is lots of breeder sized black drum activity; we'll find ourselves in two plus feet of water. It's interesting watching these big fish move in and out of the skinny waters repeatedly during a morning charter session.
Live shrimp have been our most consistent bait. When we're able to get close to the schooling drum or reds we're tail pinning a shrimp to a 3/0 circle hook. If we need some extra casting help we switch to 3/16 ounce jig-head.
Obviously, shrimp imitations are a fine option if using natural bait isn't your "thing". EZ ShrimpZ rigged on an EZ KeeperZ hook makes for a great nearly weed free offering. Other small soft plastics are working well too like a 3 inch Minnowz in pearl white, sexy mullet and mulletron colors!
Capt. Mark Wright
321-302-3474
captmarkwright@earthlink.net
www.captmarkwright.com