By Capt. Mark Wright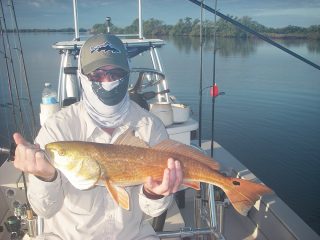 Happy New Year, All! With the holidays behind us we should be solidly in our winter fishing patterns. This basically means the redfish, black drum and gator seatrout roaming the shallows have switched to a crustacean diet.
Don't be fooled into thinking they won't eat fin-fish like a mullet, mud minnow or late leaving pinfish as they certainly will. Simply be aware that fin-fish are in short supply now and shrimp and small crabs are now the normal menu items with a side of marine worms, clams and snails.
Live shrimp will be a constant offering on my boats throughout the cold season and artificial shrimp will be regularly employed by those who prefer fooling their quarry rather than feeding them! The live critters will be pinned through the tail to a small circle hook and may or may not have a small split-shot added. Z-Man EZ ShrimpZ affixed to an EZ KeeperZ hook will be responsible for catching plenty by those who like to use lures.
Ruling out regular bait options like cut/chunk mullet and ladyfish will be a big mistake. These favorites work all year with the only downside being the catfish they tend to attract.