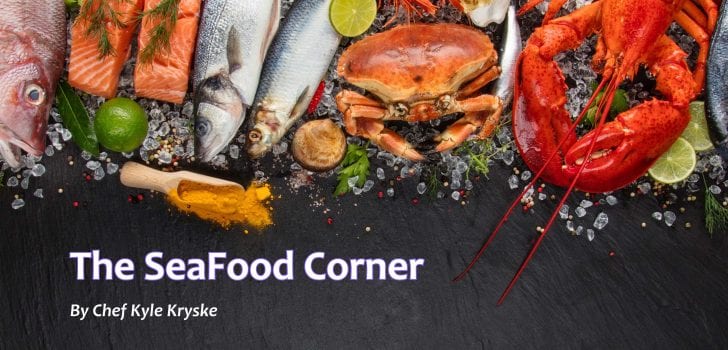 This month I am going to change it up a bit and do one of my favorite appetizers, Oysters Rockefeller.
This is a very simple and delish dish to make and they are great for any occasion. We are very lucky to have a nice variety of local oysters available for this.
When choosing a certain variety of oyster I generally go with the largest.
If large local rock or blade oysters are available go with them but if not there are plenty of alternatives from different areas such as the Gulf, MA, CT, VA, and many more.
Rock oysters are easier to shuck compared to the blades
Rock oysters are easier to shuck compared to the blades. Just check with your local seafood purveyor for availability.
The next step is getting the ingredients.
You will need to get 1 pint heavy cream, 2 shallots, 1 bottle white wine (something you can drink), 2 cups parmesan cheese, 1/2 small bag fresh spinach, 1 head of garlic, 1 small pack bacon, 2 Roma tomatoes, 1 cup panko bread crumbs, 2 lemons, and your
oysters.
This recipe will make enough mix for up to 2-3 dozen oysters depending on the size of the oyster or the amount of mix you put on each one.
I generally make the mix ahead of time and put it in the fridge but it can also
be made and held warm.
Now for the mix I divide it into 2 main steps, the cream mix and the spinach mix. For the cream mix I start by getting a small saucepan and add a half stick of butter on low heat.
Mince your shallots and add to the butter and sweat until translucent. Add 2 tablespoons flour and cook the roux for a few minutes on low heat. Then add 1 cup of wine and stir.
This should start thickening up at this point. Cook it for a few minutes and then add the heavy cream.
Cook on low heat for about 20 minutes until it is nice and thick and the flour flavor is no longer present.
While still warm and not over heat, whisk in 1 cup Parmesan cheese, salt and pepper, and the juice of 1 lemon.
Next the spinach mix, start by getting your spinach, bacon, garlic, and tomatoes ready.
Get ½ pound of bacon and dice it up raw then add to a sauté pan and cook until crispy. Take the crispy bacon out of the grease and set aside.
Now dice your tomatoes and mince 4 cloves garlic and add to the bacon grease and cook for a few minutes until soft.
Then add the fresh spinach and lightly wilt and season with salt and pepper. Add all the spinach and bacon into the cream mix and stir well.
From this point you can keep it warm or save it in the fridge for another day.
The next part is getting everything assembled and ready for baking. Take your oysters and rinse them well. 
Shuck the top off and make sure no shell fragments are present.
I will keep the adductor muscle in tact (this is what keeps the oyster in the shell). I do this because sometimes the mix and oyster will slide out if you shuck the muscle off and because most oysters are not flat.
If you are eating them raw it's a different story
If you are eating them raw it's a different story. So now that the tops are shucked off, top with the mix, parmesan cheese, and then followed by panko bread crumbs.
Bake in a 400 degree oven for about 10 minutes until lightly golden brown and bubbling.
Garnish with a lemon wedge and fresh herbs.
Enjoy! Feel free to add or take ingredients out. Check out the full recipe details below.
– Chef Kyle Kryske is a native of Pascagoula, MS. He has resided in Charleston for 15 years & has been cooking in restaurants for 18 years. He has worked in MS, AK, NC, and SC. and is Chef de Cuisine at Coast Restaurant in Charleston. Kyle is a graduate of Johnson & Wales University. When he is not working he is either inshore or offshore fishing.
Oysters Rockefeller
Ingredients for Cream Mix:
½ stick butter
2 T Flour
2 Shallots- minced
1 cup white wine
1 pint heavy cream
1 cup parmesan cheese
Juice of 1 lemon
S & P
Ingredients for Spinach Mix:
½ pack Bacon- chopped
2 Roma tomatoes- diced
4 cloves garlic- minced
½ bag spinach
S & P
Ingredients for the Oysters:
2-3 DZ cleaned Oysters
1 cup parmesan cheese
1 cup panko breadcrumbs
Fresh herbs
1 lemon- wedged
Method of Preparation for Cream Mix:
1.  In a sauce pan add butter and shallots to a pan.  Sweat until translucent
2.  Add flour and cook for a few minutes on low heat
3.  Add wine and cook for a few minutes while stirring
4.  Add heavy cream and heat for about 15-20 minutes until thick and no flour taste remains
5.  Take off heat and stir in parmesan cheese, S & P, and juice of 1 lemon
Method of Preparation for Spinach Mix:
1.  Chop bacon and add to a sauté pan.  Cook until crispy.  Take bacon out and set aside
2.  Get your diced tomatoes and garlic and cook in the bacon grease on low heat
3.  Add the spinach and lightly wilt
4.  Add bacon back to the pan
Method of Preparation for the Finished Product:
1. Take the spinach mix and add it to the cream mix
2.  Keep it warm if you are about to use it or chill it and use at a later date
3.  Get your cleaned oysters and shuck them.  Leave the muscle attached
4.  Put oysters on a baking sheet and add mix, cheese, and bread crumbs on top
5. Bake in a 400F oven for about 10-12 minutes or golden brown and bubbly
6.  Garnish with fresh herbs and lemon wedges