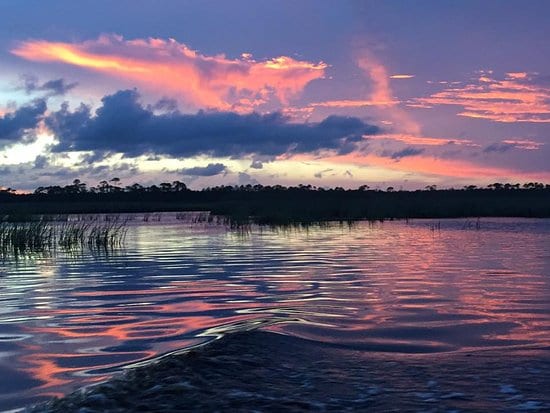 BACKCOUNTRY / BAY / INSHORE:
Spring is in full swing and the speckled trout are feeding aggressively on the grass flats in the bays. Use a top-water lure if you are looking for surface action and try a soft plastic or suspending twitch bait for strikes below the surface. Target them in very shallow water during the cooler part of the day and then as it heats up move into the 3- to 6-ft range. There are plenty of redfish working the flats as well and the same presentation will work for them, but if it's reds you're after, then targeting structures like docks and bridges will be more productive. Lots of big bull redfish are being caught in the pass and under the big bridges on live blue crabs. Shrimp and other live baits will work as well. Sheepshead have moved in with good numbers and are being found around the trash piles, docks, jetties, and other structures in the bay. Use a light weight bottom rig with a small shrimp or piece of shrimp fished near the bottom around the structure. Flounder are holding to the potholes and ledges and are feeding on bull-minnows, shrimp, and mullet. Any of those would be great baits to use but if artificial lures is the method of the day then soft plastic paddle tail grubs bounced on the bottom will do well. Spanish mackerel are everywhere and can be caught casting jigs or trolling them. A little bag of chum hung over the rail will increase the action significantly. Expect to find a few blue fish in the mix as well. Cobia have been being caught on the beach sight fishing. Cobia jigs, live eels, and blue crabs are the most popular but most live baits will be effective. They can also be caught on the nearshore wrecks. King mackerel are being caught trolling down the beaches and around the offshore wrecks as well.
OFFSHORE:When you head off shore for a day of bottom fishing, don't forget to free-line a live bait around the boat because the cobia and kings will hang out under the boat. The snapper and grouper bites are good as usual but you need to check regulations of the specific species you're catching because they're ever-changing; that goes for all species. Trigger fish are thick as are the amberjack. All of which should be targeted with a bottom rig and live or cut bait. Stop and see one of the bait boats in the lagoon for some live cigar minnows or pinfish. Frozen cigar minnow will also work.
See you in the salt!
CAPT. DARYL SHUMATE
Liquid Native Charters
850-624-6968
Liquidnativecharters.com