The dog days of summer are upon us and thankfully the tea stained bay from all the rain was temporary, and we can get back to fishing our beautiful flats and emerald waters. 
This time of year I'm especially motivated to get up early to beat the heat. Try throwing topwater lures early in the morning and there's a good chance you will be rewarded with some solid "blow-ups" from Trout & Redfish. Using a loop knot to tie on your plug can add a little extra action when "walking the dog". It's so much fun to watch a Redfish strike a topwater bait. They are typically a bottom feeder and their mouth is shaped to feed downward, so it's a delightfully awkward sight to watch them inhale a topwater bait. As the day progresses switching to a soft plastic, rigged weedless on a wide gap hook with no weight or a 1/16th weight proves deadly when stalking redfish on the flats. A stakeout pole is a necessity when fishing shallow so you don't drift over the fish spooking them. There are several on the market. I personally use a surf rod blank and cut about a foot off the top. It then doubles for poling the flats. I attach a short piece of rope and a carabiner. I've even seen a small retractable dog leash used. A small anchor or dive weight can be used in deeper water. As the day gets hotter and the trout move to deeper water to cool off, a popping cork rigged with 3 feet of line or so, depending on how deep you want your bait to go, is a good choice rigged with shrimp or baitfish. Flounder can be caught using a 1/4oz jig head with a grub tail or rigged Carolina style with a bull minnow. Target the sandy holes to find the "flatties."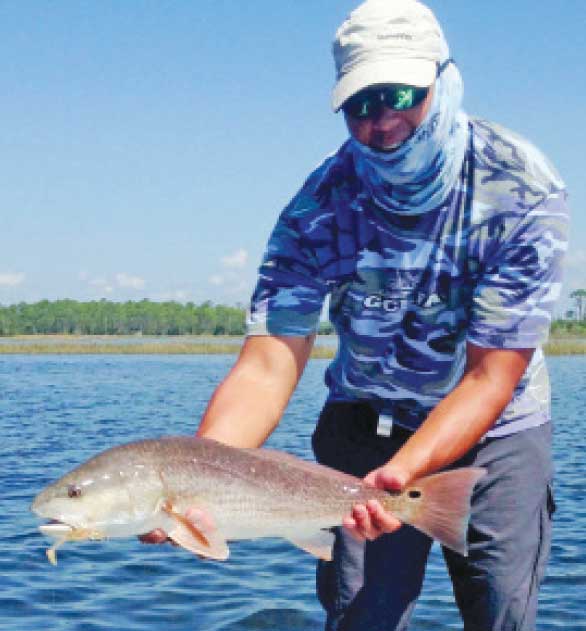 Scallop season is open through Sept 24th . Pack up the kids and get out your snorkel & mask! Limits are 2 gallons of whole clams per harvester with no more then 10 gallons per vessel.
Fishing in the Gulf this month, you can catch Spanish, Kings, Mahi-Mahi, Sailfish, Tarpon, Grouper, Snapper, and Trigger fish. Be sure and know the regulations when fishing. For example, snapper season will be closed, but trigger season opens back up Aug 1st . It can be confusing, so I recommend downloading the app "Fish Rules" to your smart phone, which has up-to-date regulations, and some really cool features.
By Capt. Linda Cavitt
Panama City Beach, FL
www.captlinda.com