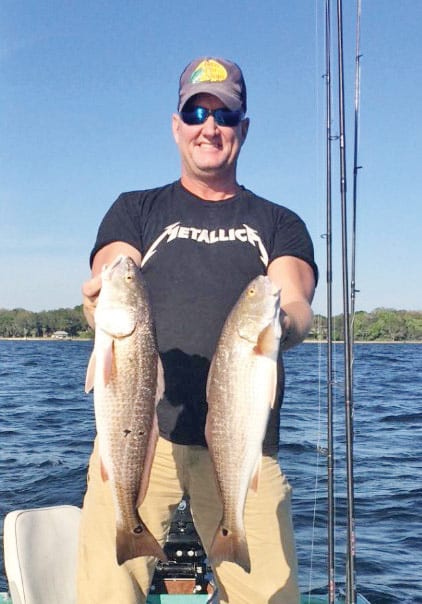 BACKCOUNTRY / BAY / INSHORE:
Summer is here and so is the heat. If you are after speckled trout or redfish, whether wade fishing or in a boat, your best bet is early in the morning and late in the afternoon. The bigger trout are being caught at daylight and so close to the bank that their backs will come out of the water chasing food. The redfish have been doing the same but in big schools and you can see them coming because of the water they will be pushing. Live bait fish works best because they will survive the onslaught of pinfish better than shrimp will. If live bait isn't an option then casting top-water lures before the sun gets too high will do. There are also plenty of options when it comes to soft plastics that will produce well. Anything from the trusty DOA shrimp to Z-Man baits. Check in with the guys at Howell Tackle to see what colors are working the best. The flounder have moved back into the bay and are being found in the potholes and ledges. Use a bull minnows or finger mullet hooked in the nose to keep it on the bottom. Spanish mackerel are everywhere and will eat almost anything but casting or trolling a gotcha jig or similar will put plenty in the boat. Sheepshead and mangrove snapper are holding to the shallow structures, bridges, and docks throughout the bay and are being caught with small live shrimp on a light weight bottom rig. Big bull redfish are being caught in the pass and under the bridges on the outgoing tide using just about any live bait but a small blue crab will work the best; there's also some giant black drum with them. Pompano are cruising the surf looking for small crabs and sand fleas and that's what you need to catch them, but you can also use a pompano jig tipped with a piece of shrimp. The tarpon are here and moving down the beach. They will eat most-sized larger live baits like mullet, pinfish, thread herring, greenbacks, and blue crabs. If you have a fly rod and a lot of patience, landing one is an experience you won't soon forget.
OFFSHORE:
What everyone has been waiting for is here. Gag grouper is open and red snapper opens June 11. Be sure to get an early start because there will be lots of boats headed of shore. The wrecks and structure are covered with fish and your standard bottom rig with live or cut bait will do well. There are also lots of trigger fish and amberjack being caught along with white snapper, mangrove snapper, red grouper and scamp. Some really big king mackerel have been showing up around the wrecks and buoys as well as down the beach trolling. If you can find some floating grass or debris it should hold some mahi and triple tail. Have a light weight rod ready with a bait if they show up or if you spot a triple tail floating near the structure.
Summer time and great weather means lots of people so get an early start and enjoy the incredible fishing opportunities our area has to offer. See you there!
CAPT. DARYL SHUMATE
Liquid Native Charters
850-624-6968
Liquidnativecharters.com