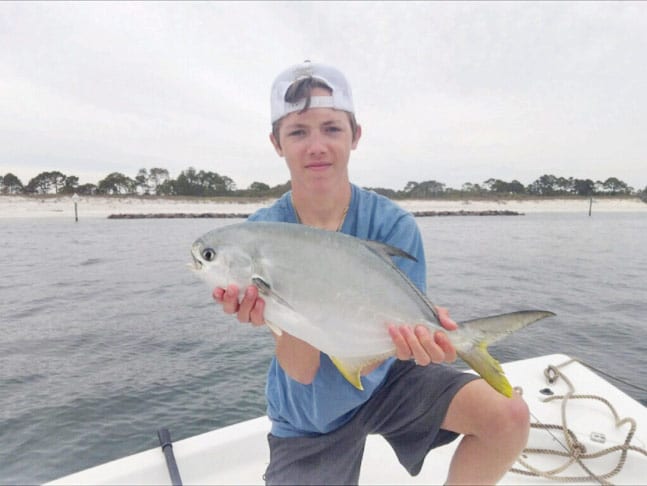 BACKCOUNTRY / BAY / INSHORE:
These mild mornings are a perfect time to get out on the flats and chase some fish. For speckled trout and red fish, throw top-water lures early in the morning in the shallow grass. For reds, top-water will work, but you may want to switch to a soft plastic on a jig head to get it down into their strike zone. After the sun pops up, move to the deeper flats in the 3- to 5-foot range and fish deeper. Live baits like shrimp, finger mullet, menhaden, etc. will do a great job and provide plenty of action. Flat-line live bait, (no weight), with an open spool. Let the fish run with the bait for a couple of seconds after the strike, then close the bail and set the hook. Present your bait under a dock or two as well.
Under the bridges and in the pass some huge redfish are being caught. Try to catch an outgoing tide and float a live blue crab in the grass line. If you can't find crabs, most live baits will work almost as well. They are also hitting jigs and top-water lures when they are feeding heavy. There are still plenty of sheepshead being caught around the shallow structures in the bay along with some quality mangrove snapper. Small, live shrimp on a lightweight bottom rig will produce well. Flounder can be caught on the ledges and pot holes around the bay. Soft plastic jigs bounced along the bottom or a live bull minnow will probably get you dinner. Pompano have been thick on the beach and around the jetties and are being caught using anything from pompano jigs tipped with shrimp to live shrimp or sand fleas. Look for their shadows on the bottom just on the edge of the surf and cast to them. Spanish mackerel are everywhere and can be caught casting jigs, live baits, and trolling on the beaches or in the bay. Some big king mackerel are being caught trolling down the beaches and flat lining live baits around the buoys and wrecks. Tarpon are cruising the beach and are very finicky. You have to find fish that haven't been pressured to get them to bite. Live baits like mullet, pinfish, white baits, and crabs work well.
OFFSHORE:
Amberjack season is open and there are plenty to be caught. They are all over the wrecks and structure. Use a standard bottom rig and drop it down to the structure. There will be plenty of red snapper on the line, but the season is still in question so check those regulations before one goes in the box. Gag grouper is also closed until 1 June. Triggerfish is open and there are lots of them on the structure. The standard bottom rig is what to use with live or dead bait. King mackerel will be hanging around the wrecks as well but usually nearer to the surface. Flat-line a live bait while bottom fishing and one will pick it up. Cobia, scamp, mangrove snapper, red grouper and more can be caught and kept for dinner as well.
May is a slower month for tourists, but not for fishing, so it's a great time to get out on the water and battle the fish, not the crowds.
CAPT. DARYL SHUMATE
Liquid Native Charters
850-624-6968
Liquidnativecharters.com