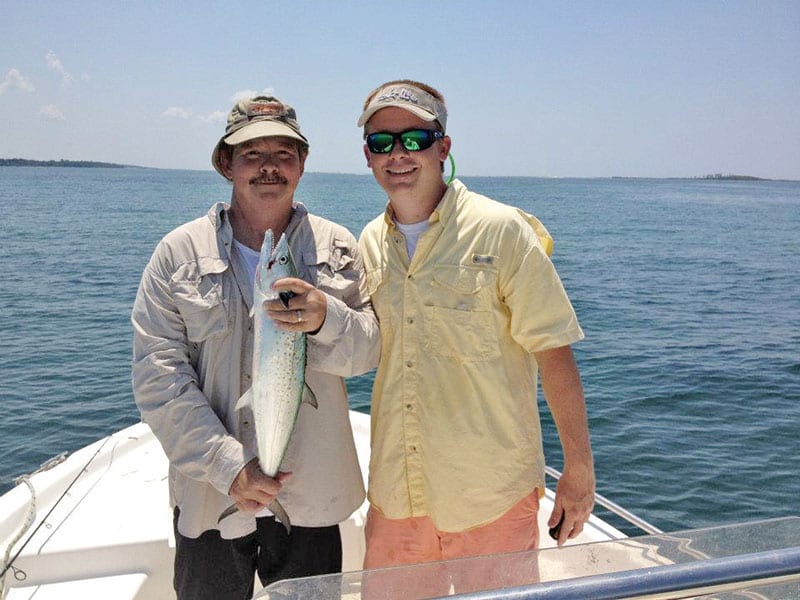 BACKCOUNTRY / BAY / INSHORE:
With the rains slacking off and the humidity dropping, the waters in the bay should begin to clear. This time of year the fishing is excellent! Most target species in the bay are more aggressively feeding in advance of the upcoming cold weather to build up fat reserves for the winter. Speckled trout are still on the grass flats and in the bayous feeding on greenbacks, menhaden, finger mullet, and shrimp. Free-line live bait in the shallow water less than 3' deep. If you don't have a way to catch live bait or keep shrimp alive, try casting top-water lures, suspending lures, or soft plastics on jig heads. Redfish will be found in the same areas using the same baits and presentation but also look for them around the docks in the bay and schooling up on the flats. The really big redfish are being caught under the bridges and in the pass; most are too big to keep, but lots of fun. Most live baits will do just fine but redfish love blue crabs. Flounder are on the move and are being caught and gigged on the sandy patches near the grass and drop offs, as well as in the pot holes and channels. Bluefish have started showing up, and are so aggressive that they will knock a tin can out of the water when feeding. Mangrove snapper catches will only get better as it gets cooler. Target the structures in the bay and try to use small shrimp or baitfish on a light weight bottom rig on light tackle and you should have plenty for dinner. Down the beach some redfish, flounder and some whiting are being caught in the surf and from the piers. Don't forget about the king mackerel, they too are being caught trolling down the beach.
OFFSHORE:
The usual suspects are there and waiting. Amberjack are being caught both down on the bottom near the structure as well as up in the water column. Gag and red grouper will eat most large live baits and they love a hand sized pinfish. Plenty of red snapper are being caught but can't be kept and there are some nice size scamp being caught if you can get your bait down through the trigger fish to the bottom. Don't forget that if you are set up for bottom fishing always flat-line a live bait so you don't miss out on the king mackerel that will be cruising.
This time of year the fishing gets really good, the crowds are gone, and the weather starts to cool off. It's a perfect time to grab the family and spend some quality time on the water. See you there!
CAPT. DARYL SHUMATE
Liquid Native Charters
850-624-6968
Liquidnativecharters.com