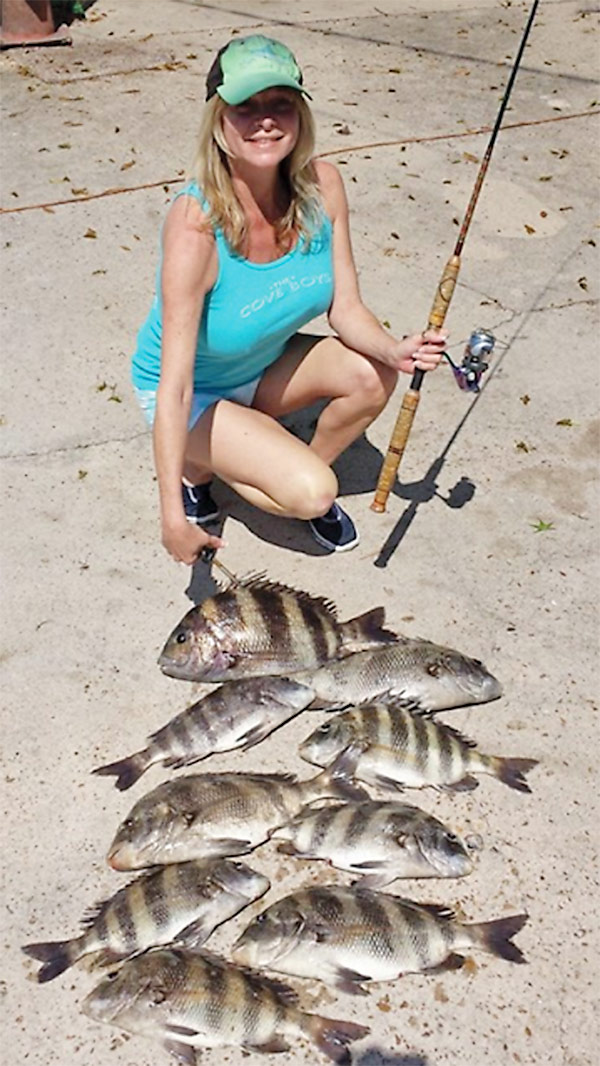 Backcountry / Bay / Inshore:
With very mild temperatures for most of January, the majority of the target species, like speckled trout and redfish, have moved to the mouths of the creeks, bayous, and canals. The trout and red fish may be a little sluggish on the cooler mornings so fishing a live bait or soft plastic jig worked slow on the bottom of the channel will be effective. Once the sun gets up and it warms a bit, they will move out on the grass or mud flats to feed, then you can switch over to a top-water or suspending lure. Sheepshead will be showing up on the shallow structures in bay right along with the mangrove snappers. Both can be caught on a light bottom-rig with live shrimp. Also around the structure and in the pass, the flounder will be moving inshore and into the bay. Bull minnows work best, but shrimp will also do well, as will jigs tipped with soft plastics. In the pass and in the deep channels under the bridges there are some big bull reds being caught.
Offshore:
All the usual culprits are biting. Snapper, grouper, amberjack, triggerfish, and scamp are being caught around most of the wrecks and structure. Snapper, grouper, and scamp will be caught on the bottom, and amberjack will be up higher in the water column along with the sharks. Be sure to check the regulations for 2017.
With spring only a month away, now is the time to get out on the water and enjoy our fisheries before the crowds descend. See you on the water!
CAPT. DARYL SHUMATE
Liquid Native Charters
850-624-6968
Liquidnativecharters.com