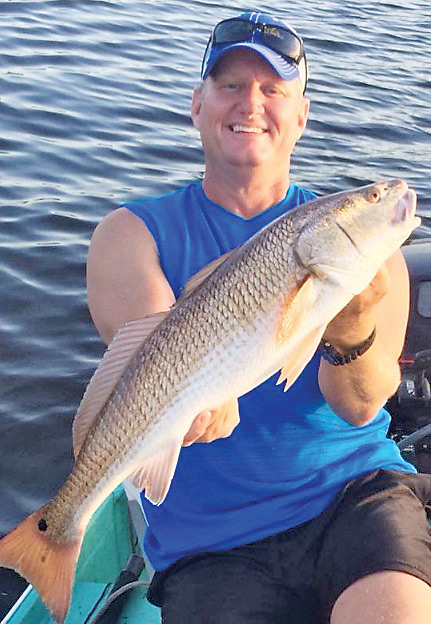 BACKCOUNTRY / BAY / INSHORE:
With a lackluster cobia season behind us, we can all get caught up on the rest of the great fishing that's going on.
Speckled trout and redfish are all over the grass flats in the bays. Try top-water lures for the first couple of hours after daylight, and then switch to soft plastics and suspending lures as it warms up. You can't go wrong with a live mullet, menhaden, or shrimp at any time. Look for small groups of reds around the docks on the flats. The bigger bull reds can be caught around the bridges and the jetties in the pass; try floating a live blue crab or fiddler crab on an outgoing tide in the grass line.
Some big bluefish are being caught in the bay around the pass, as well as lots of Spanish mackerel. Flounder are being caught around the drop-offs near channels and shallow structure in the bay by bouncing a jig along the bottom, or using a live bull minnow. There are also some nice sized mangrove snapper and sheepshead being caught around those same shallow wrecks, as well as the jetties and the bridges. King mackerel are being caught along the beaches, the buoys, and the wrecks by trolling or flat-lining a live bait like a cigar minnow or pinfish. Pompano can be caught in the surf off the beaches with sand fleas, small shrimp, and pompano jigs fished along the bottom.
OFFSHORE:
The bottom fishing offshore is as good as ever. Plenty of snapper, grouper, amberjack, and trigger fish are being caught, but can't be kept because of the ever tightening regulations on season limits, bag limits, size limits, etc. Be sure to check the most updated state and federal regulations before you go. There are still plenty of mangrove snapper, black snapper, black grouper, red grouper, and scamp to put in the cooler for dinner, and they can all be caught using a standard bottom rig with live or cut bait. There will also be king mackerel around those same spots and even the occasional cobia.
May is a great time of year to be fishing here. The crowds have thinned out for the lull between spring break and summer, and the weather is perfect so get out on the water and enjoy. Don't forget to take a kid fishing and get them involved in the outdoors.
See you there!
CAPT. DARYL SHUMATE
Liquid Native Charters
850-624-6968
Liquidnativecharters.com