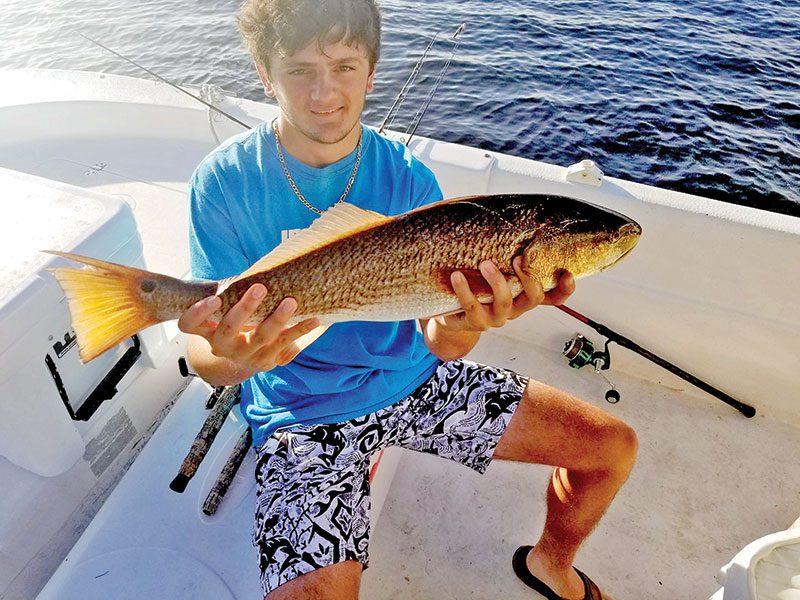 Hello anglers! February is typically the coldest month here in the panhandle. Timing your efforts around cold fronts and a good strategy will be important for inshore fishing success. We should see gulf water temperatures in the mid to upper 50's for most of the month. We can't change that, but we can plan a more pleasant experience if we stay updated on weather patterns. Try to time those trips in between those cold fronts sweeping through from west to east and target resident inshore species.
BAY: Trout and redfish will, for the most part, be on the same patterns as they were in January. Trout will hold in bayous, creeks, and canals. Try fishing live and artificial baits slow and low. The mangrove snapper bite in the bay is the best I've seen in years. Throughout January I caught them on many structures over a 12 mile span in our bay system. Use light spinning gear with the lightest lead the current will let you get away with, a 10- to 20-pound fluorocarbon leader and a 1/0 short shank circle hook will get it done. Mangrove snapper will bite many small minnows and fresh cut bait offerings, but my personal favorite is live shrimp this time of year. Live shrimp will also yield many other species. Bull reds will be hot and heavy in very confined areas throughout our inshore waters like jetties, bridges, and many deeper structures. Sheepshead will be getting active in the same areas.
GULF: There will be lots of good fishing on inshore reefs this month however, there will be lots of releasing due to season closures on many predominant resident species on the nearshore structures. Flounder, various species of snapper, and a few others are still available so vary your baits and techniques to cover the spectrum out there bottom fishing.
SURF: I would suggest live shrimp and small crabs fished on bottom. There are many quality fish that will appreciate this offering. Remember, there are always sharks cruising the beach. Fresh cut baits fished on larger gear with a wire leader will produce. Inexperienced surf anglers can join some of our local land based fishing groups on social media. Their material can be very informative and there are many friendly folks ready to help out.
Thanks for reading and fish on!
CAPT. JASON SHINGLER
Adrenaline On H20
Panama City, FL
(850) 348-2282