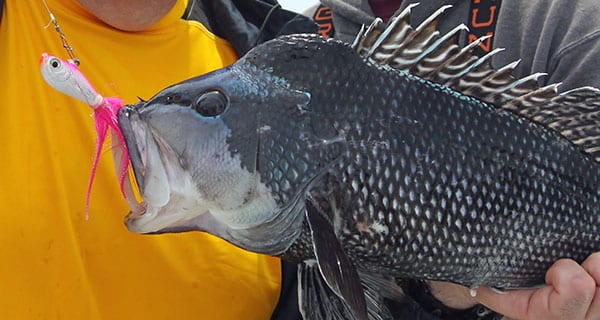 By Tom Schlichter
As the stripers begin to fade and blues depart for warmer waters, the salty side fishing action eases to a gentle halt in the Tri-State area. Windy weather and cool fall or early winter temperatures make it tough for private boaters to get out on the water and even the surf rats stow their gear and begin to think of holiday cheer rather than spending time tracking tides. For most saltwater anglers, the season is over.
But has the fat lady really begun to sing? Not if you don't want to hear her. There are still a few avenues of piscatorial pursuit available to those who seek them out. Prime among these are mixed bag party boat trips to offshore wrecks.
COOL WEATHER, HOT ACTION
Mixed bag party boat fishing has been around forever, but it has really seen a rebirth over the past few years with the fleet heading out to deeper and deeper water in search of black sea bass, scup, blackfish, cod and ling. Depending on which wreck and how far offshore the boat runs on any given day, any of the four can lead the charge, although these days it's a good bet that sea bass will generally be out in front.
Of course, most of the party boat fleet is finished for the year by this point, but if you check the major ports in New York, New Jersey, Connecticut and Rhode Island, you should find a couple still heading out at least through mid-December. If the weather falls into a bitter, nasty pattern, however, the season can come to an abrupt end – so get out while the action is hot. Always make it a practice to call ahead and check with the skipper to make sure the boat you plan to sail on will actually leave the dock as trips are occasionally cancelled this time of year due to snotty seas or not enough anglers showing up to make sailing profitable.
RIGGING UP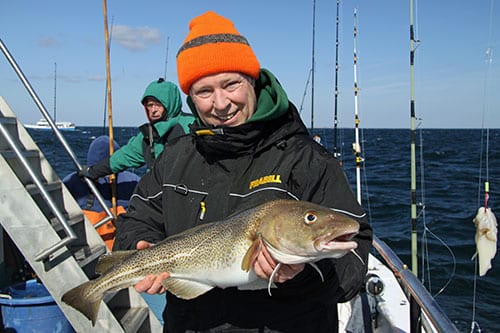 The standard terminal end on these trips is a traditional high-low rig anchored by a 6- to 10-ounce sinker and sporting two size 1 beak-style hooks. Most experienced bottom bounces prefer a 30-pound-class conventional setup with a 40-pound test leader. Line type is your choice – mono or braided. The braided line allows you to get down to the bottom with less weight but can be a problem if you get snagged as you may end up leaving a lot of it behind. The mono requires a bit more weight to hold bottom but is a lot more forgiving. I like the mono for this game, but I will use the braid – with a long mono leader – if the tide pushes hard. To avoid the latter scenario, try to sail on one-quarter or one-half moon phases when tidal influence is lightest.
As for baiting up, most party boats offer skimmer clam and squid strips at no charge, but a few also provide green crabs or fiddlers. Pay attention as to which baits are working best for anglers around you and don't be afraid to switch from one bait to another – or back again – as the action dictates. Most of the time the clam bait works great for the porgies, seabass, triggerfish and ling. Hook each piece just once through the tough "tongue" section and make sure the entire barb protrudes slightly from the meat. A single piece of clam will usually produce better than several pieces strung together on the hook as it will easier for your quarry to swallow and appears more natural in the water.
Blackfish will take the clams, too, but they do prefer the crabs when given a choice. As a rule, the green crabs produce bigger blackfish than the fiddlers. I've also seen some anglers score very well with strip baits made from bergall or porgy strips. These can produce especially large sea bass and may even tempt a stray pollack should one be in the area.
POOL WINNING TIPS
Would you like to win the pool? To tilt the odds in your favor don't rush to drop your line in the water after the boat has stopped. Instead, allow a minute or two to pass so that everyone gets their line set and then use an underhand flip to toss your line straight out ten yards from the boat. This will allow your line to settle just outside the line of everyone else where it can easily stand out.
Another way to draw a little free cash your way is to hold out for big fish bites. Bulldog blackfish, large sea bass, cod and other lunkers usually inhale baits with a more deliberate, strong tug. If you can resist the temptation to set the hook on the first few light taps the chances of larger fish getting to your baits significantly increase.