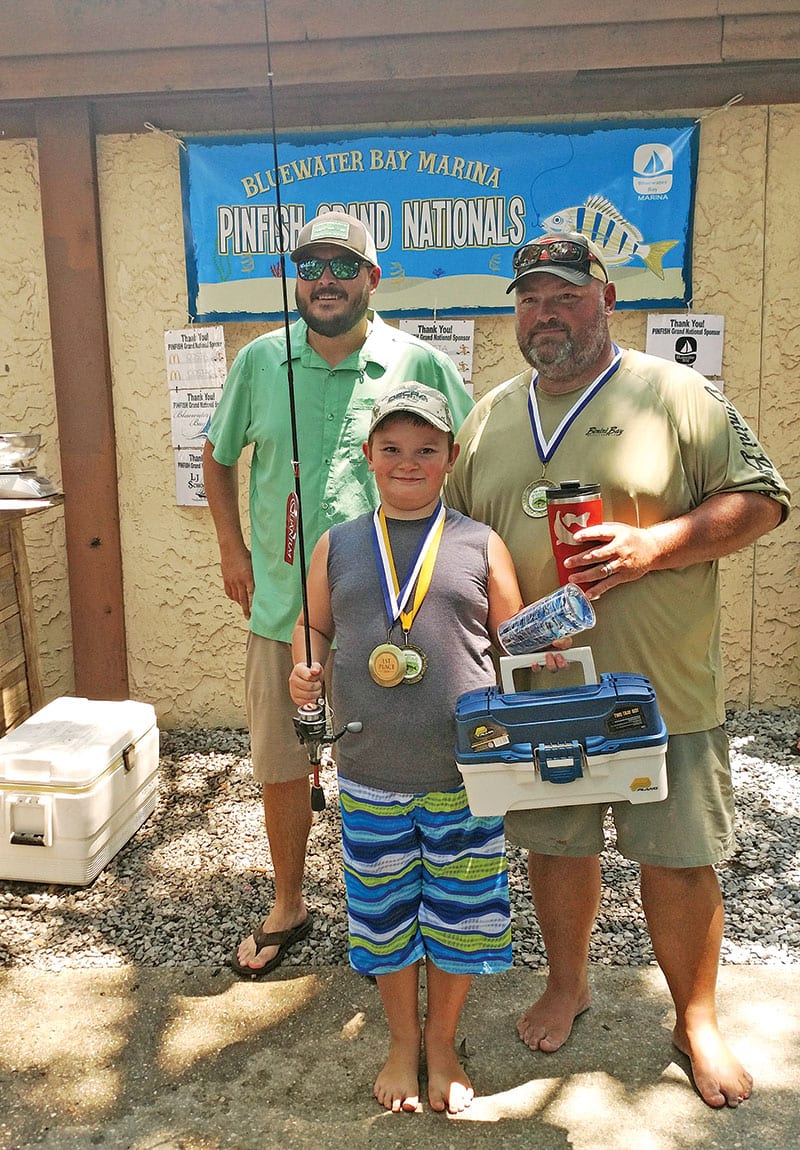 Over 80 teams of kids and their adult sponsors fanned out across Niceville's Bluewater Bay Marina for the Pinfish Grand Nationals. Children sixteen and under strung bait on monofilament lines, flung them over the side of the wooden marina docks, and paddled in kayaks.
I attended the event on behalf of the Choctawhatchee Basin Alliance (CBA), one of the prize sponsors and the nonprofit beneficiary of proceeds from registration. Across Florida, anglers are important proponents of clean water and healthy fisheries, and it was gratifying to see all the kids readying their equipment, some fishing for the first time. CBA strives to improve swimmable, fishable waterways in the Choctawhatchee region, just like where the kids currently sought pinfish.
The Bluewater Bay Marina has hosted the Pinfish Grand Nationals for seven straight years now. Ryan Hinely MC-ed the weigh-in and prize giveaways.
"As a young man growing up I fished regularly, but was rarely able to participate fully when a tournament was on the line," Hinely explains, "This tournament is solely about the children being able to have fun on the water at a young age before school starts. At the end of the day I am elated that 84 kids who may not have had a chance to fish that beautiful Saturday morning were able to fish and participate."
Walking the marina over the course of the competition's hour revealed quite a few different fishing methods, from seeking out oyster beds to getting an extra few yards away from shore using a docked boat to laying on stomachs to dangle lines into the water. Every pinfish brought to the surface brought a grin or a squeal of delight, and more than one participant caught the fishing fever.
At 11 a.m. Ryan Hinely sounded the buzzer to announce the end of fishing and the start of weigh-in, and the competitors brought their buckets of pinfish to shady picnic tables and chairs beneath the boughs of live-oaks. For each contestant, the tournament tallied the largest pinfish and the total weight for all 10 catches. Afterwards, kids released their pinfish or contributed them to a cooler destined to become crab-bait for Trey Nick of Nick's Seafood Restaurant.
At the end of the morning, Caleb Hicks earned first prize for both the largest pinfish and the heaviest catch overall, beaming as the Hinely's bestowed his medal, tacklebox, hat, and new spinning rod.
"None of this would be possible without the support of local business and organizations," Hinely continues, "[including] Costa Family Enterprises, Choctawhatchee Basin Alliance, Peoples National Bank, Bluewater Bay Yachts, LJ Schooners, and of course the Bluewater Bay Marina Complex. I am both thrilled and honored to be a part of the Pinfish Grand Nationals. To see the joy that a few hours of our time can generate for the kids, and their families is plenty of motivation to continue on with largest children's tournament on the bay!"