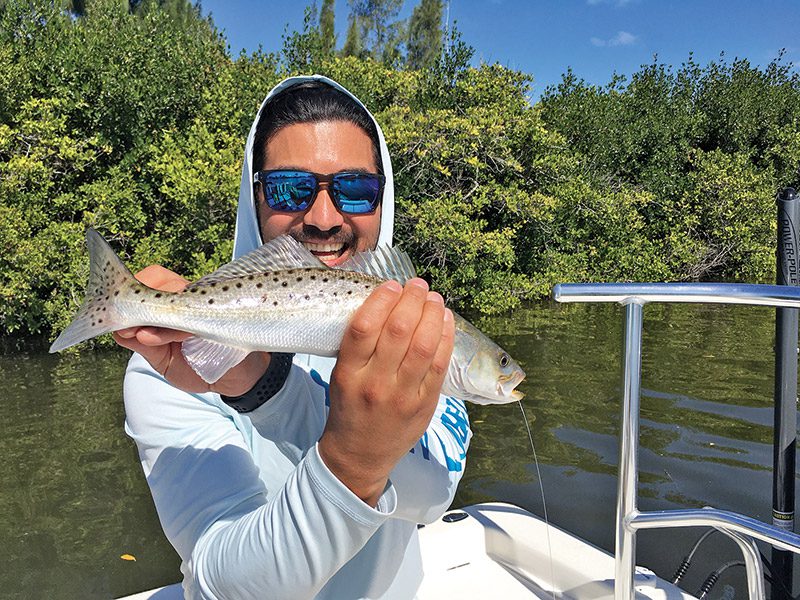 PORT CANAVERAL: In December options for anglers inside the port's basins and just outside the port along the beaches will decrease in variety, but often increase in numbers. Bluefish are one species in particular that anglers should be able to catch plenty of this month. These aggressive little fish often only weigh 1 to 4-pounds along the beaches and inside of the port, but anglers can usually catch 10 to 40 fish per trip by casting silver spoons, Rapala X-Rap lipped diving plugs, and 1/4 to 1/2-ounce nylon or bucktail jigs. Some of the more popular places to cast these lures is along the piers and rock jetties at the east end of the port, or along the surf break north of the port up to the tip of Cape. If you prefer to cover ground and don't want to cast, that's not a problem. Trolling with these lures in the Canaveral Bight area can be extremely productive. Spanish mackerel often show up in many of the places I've mentioned, and run about the same size as the bluefish.
Jack and ladyfish can be found here this month as well. In the surf zones, look for whiting and pompano schooling just outside of the surf break on many days in December. Sand fleas, cut shrimp and Fish Bites are the three most popular baits to use. Small brightly colored jigs and multi-hooked surf rigs tipped with the baits mentioned are the best way to get into some good action with either species.
BANANA RIVER LAGOON: Redfish, trout, and an occasional snook will be possible in these lagoon waters. This is encouraging after the 30-mile long fish kill this area experienced in 2016 and again last year due to algae super blooms that were a result of excess nitrogen from residential lawn fertilizers and sewage leaks that occurred in this fragile waterway. The algae explosion depleted all of the oxygen in these waters in a 24-hour period, trapping and killing everything in its path. Fortunately, this lagoon is resilient. With the help of concerned residents who have curtailed their fertilizer applications, and steady repair work being done to the sewer systems along the Banana Lagoon, these waters are starting to support life again. The redfish and trout that remain here will generally strike a live fingerling mullet or Saltwater Assassin 4-inch sea shad tail rigged on a 1/8 to 1/4 ounce jig head. Good colors to use this month are Purple Moon, Laguna Shrimp, and Pimp Daddy. Live shrimp will also work on redfish, black drum, and speckled trout when they are holding tight to structures like docks and mangrove roots. Rig these with a split shot to keep them close to the bottom. For snook, remove the split shot and be sure hook the shrimp through the tail so that it can swim around these structures naturally.
Sheepshead should be another species that anglers can find near docks, rocks, and bridge pilings from the 528 Causeway southward to Mathers Bridge. Use live fiddler crabs or sand fleas on a small stout hook near these structures to get the bandit striped fish to bite.
Capt. Jim Ross
Fineline Fishing Charters
www.FinelineFishingCharters.com
(321) 636-3728