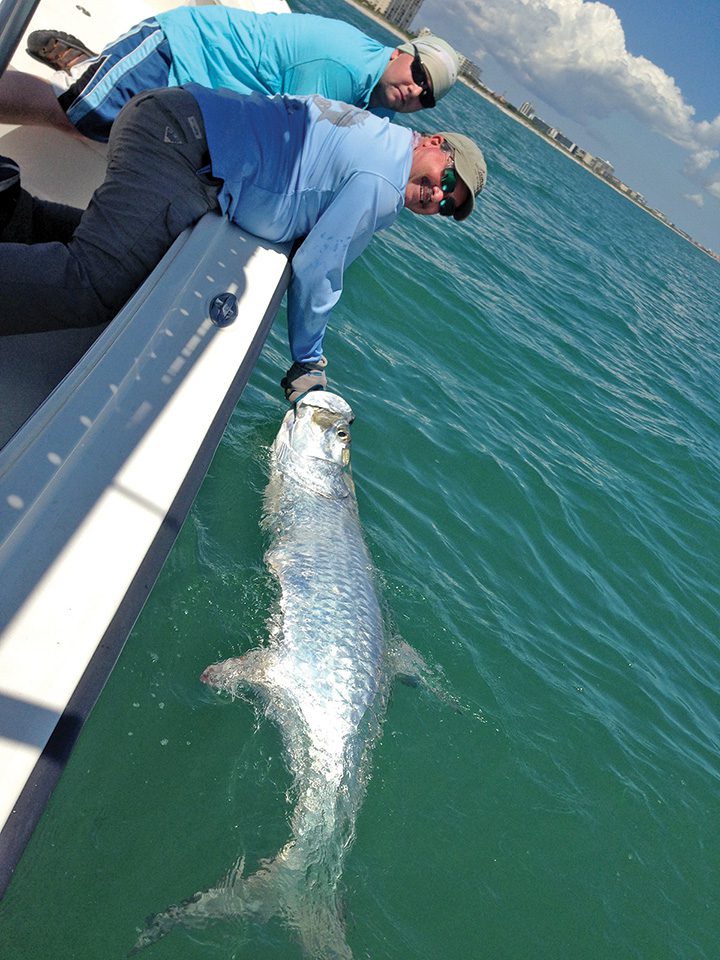 PORT CANAVERAL NEARSHORE: A mixed bag of species is available to anglers fishing the waters outside of the Port hits month. Barracuda, shark, jack, tarpon and king mackerel are just a few that come to mind. Many of these fish will be concentrated around bait pods in the 15- to 40-foot depths. Collecting a bait well full of lively sardines, pilchards or pogies will be your first task of the morning. Once you have baitfish secured the day can continue.
I like to use a wire leader on some of my rods to keep the barracudas and kingfish from cutting me off. I use a double treble hook stinger rig to keep them honest. Slow trolling with the live baits near the Port Canaveral shipping channel, or around the #4 or #2 buoys on the southern edge of the southeast shoal will generally result in quite a few hookups throughout the day. Tarpon normally don't strike the wire leader rigs, so I will also have a couple of rods rigged with fluorocarbon leaders in the 60- to 80-pound range attached to a 6/0 to 8/0 sized VMC 7385 circle hook ready to deploy in the areas where I see tarpon. You will lose a few of these rigs to kingfish and sharks, but they typically stay embedded in the tarpons' jaws without any problems. Most of the tarpon you find out here will be in the 15- to 50-pound range, but a few of the tarpon will run well over the 100-pound mark.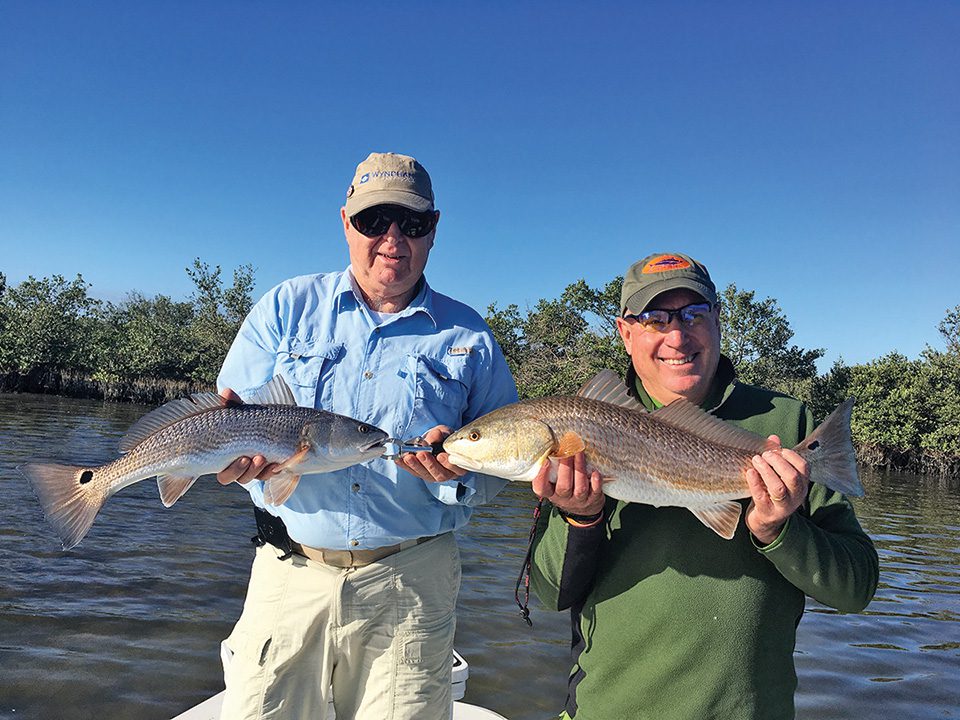 BANANA RIVER LAGOON: If the waters in this lagoon stay relatively clear through July we should continue to find redfish and trout feeding on the flats and near mangrove covered shorelines throughout this portion of the lagoon system. Slot sized trout should remain a solid possibility on most days for those who are fishing around the Thousand Island area of Cocoa Beach or the Grand Canal area near Satellite Beach. Live fingerling mullet are good baits for these fish. Subsurface lures like the X-Rap Twitchin' Mullet can be effective early and late in the day, especially in areas where puffer fish are concentrated. If these blow fish are not causing problems, try a 4- to 5-inch Saltwater Assassin sea shad or one of the straight tailed shad models in clear with gold flake, Cajun Croaker, Opening Night, or Albino colors. Live hand-picked shrimp are also great live bait choices on most days.
Until next time…Catch a memory!
Capt. Jim Ross
Fineline Fishing Charters
www.FinelineFishingCharters.com
(321) 636-3728