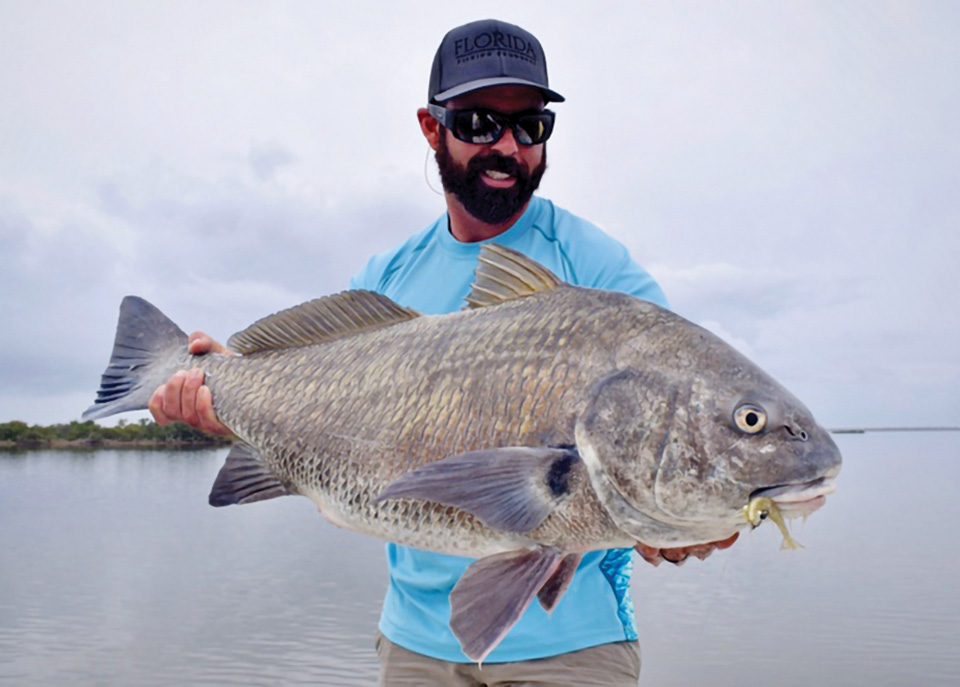 Hello and welcome to another edition of Pro Tips! My name is Capt. Jonathan Moss and I am addicted to fishing. Few things get my heart pumping like fishing. The pursuit of fish, whether on the flats, offshore, on the beach or bass fishing the local pond, is always a thrill. Some anglers prefer specific techniques. For example, some prefer using only live or cut bait, while others are die hard artificial lure users. As for me, it depends on who is on board my skiff, but my preference is artificial lures.
Artificial lures come in a variety of styles and colors, and each has their own special use and purpose. With it now being wintertime, specifically February, I prefer to use an artificial shrimp. Now, there are many different versions and colors of the artificial shrimp, but my favorite option is the 3-inch D.O.A. Shrimp in clear/gold glitter, model number 413. The color, flash, action and fish catching ability has proved itself worthy of space in my tackle box time and time again.
During the winter months, our lagoons have less baitfish around, but our shrimp population is through the roof. If you pay close attention while on the water you can see shrimp skipping across the water frequently. This is a great clue as to what our redfish, black drum and speckled sea trout population are foraging on.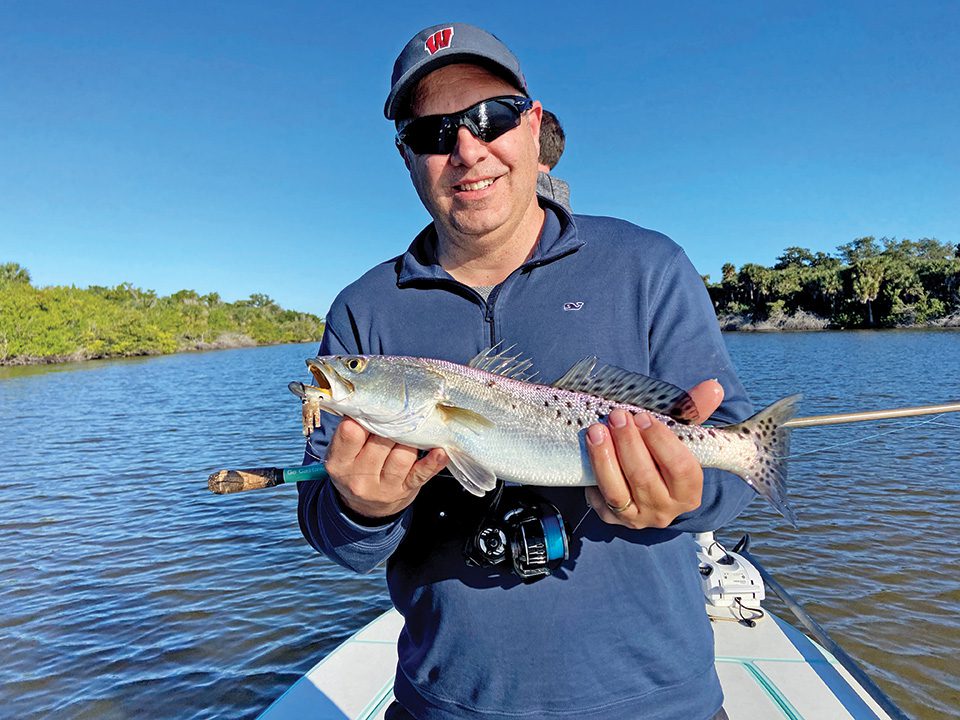 Additionally, wintertime brings cooler water temperatures and this pushes fish to dropoffs and ledges in the early morning hours to stay warm and ambush easy prey. Cast the artificial shrimp across the ledge and slowly let it drop into the zone and you are sure to get a bite from a hungry speckled sea trout and/or redfish.
As the sun rises in the sky, redfish and speckled sea trout will move from the dropoffs/ledges to potholes, mud, sand and mangrove shorelines adjacent to the flats. Cast and slowly work your artificial shrimp with a twitch and pause technique.
When redfish are tailing, they are actively stirring up the bottom, searching and feeding for shrimp and crabs. Casting two feet beyond and two feet in front of the tailing fish allows you to slowly work the artificial shrimp in the feeding zone. It will be very difficult for a tailing redfish to refuse such a presentation, but be careful not to cast directly on the feeding fish, as this will cause it to spook.
Pictured are fish caught in the Mosquito Lagoon using a D.O.A. Shrimp. One is rigged weedless, using an Owner 3/0 1/8th Twist-Lock hook, and the other was caught on a D.O.A. Shrimp rigged with the J hook it comes with right out of the package.
Tight lines,
Capt. Jonathan Moss
Go Castaway Fishing Charters
www.gocastaway.com
(407) 760-8593